MAGNUM RIFLE ADJUSTERS for Discovery, Maximus & 2260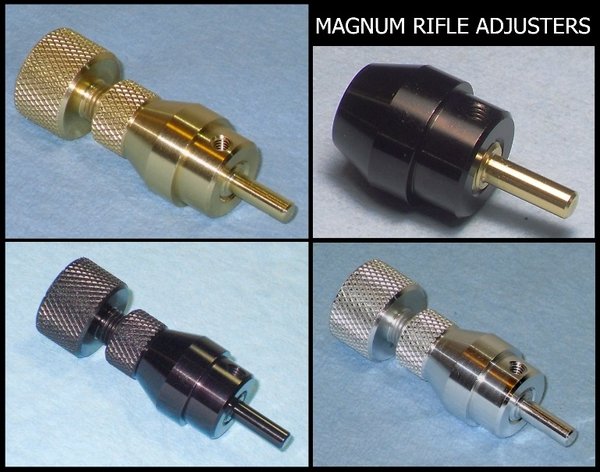 MAGNUM RIFLE ADJUSTERS for Discovery, Maximus & 2260
These adjusters are listed in 6061-T6 aluminum, black anodized 6061-T6 and 360 brass. The full-size version has a locking collar and tick marks on the back of the knob to help gauge and maintain adjustments. The compact adjuster has no knob or collar, it requires a 3/16 hex wrench or one of the adjustment tools shown in the photos. The striker spring can be removed by backing the adjuster knob/guide-screw all the way out. The adjustment range is wide enough to produce maximum power, maximum shot count or the precise level of performance you want anywhere in between. These will also fit 22XX, they are the same adjusters but include the shorter rear trigger frame screw described below.

Discovery, Maximus, 1760 and 2260 models require a shorter rear trigger frame screw. The original screw is too long and will hit the adjuster knob threads. A length of 3/8" works best. One 3/8" Phillips-head screw is included, it is black-oxide stainless steel.
The Maximus striker spring will not fit on these adjusters, a Discovery or Magnum striker spring should be used instead. I have those listed separately.
The adjustment tool bit and knurled knobs are listed separately. The knurled knob is magnetic and works with all standard 1/4 hex screwdriver bits. It's a versatile tool with many other uses, it has a 1/4 square drive socket on the opposite side that fits a standard 1/4 drive ratchet or driver handle.
The degassing sleeve is made of aluminum and fits all versions of the Magnum Adjuster. The fourth photo shows how it mounts. The adjuster knob/guide-screw backs out to remove the striker spring, then you put the sleeve on and thread it back in to degas. Count the number of turns when you remove the knob so you don't lose your adjustment position.

The following chrony test results compare a standard Discovery .22 to one modified with a combination of this and other custom parts I offer. 14.3 Grain pellets were used for both tests. Testing was stopped at 100 FPS below peak power.
Unmodified Discovery .22 starting at 2000 PSI :
1) 888.1 muzzle velocity in FPS (feet per second)
2) 901.0 peak power

3) 899.8

4) 878.8

5) 877.7

6) 871.5

7) 855.6

8) 854.9
9) 849.6

10) 843.0
11) 837.1
12) 836.0
13) 827.6
14) 819..7
15) 813.4
16) 797.1 100+ FPS below peak power
.22 Discovery with custom valve screws, Magnum Adjuster, wide-bore gauge port or bypass cap, 26" Maximus barrel and a starting pressure of 3200 PSI.
1) 958.8
2) 965.9

3) 971.2

4) 973.4

5) 977.2

6) 978.9

7) 984.5

8) 991.6

9) 994.7

10) 989.3

11) 997.6

12) 1000
13) 1007
14) 1002

15) 1005
16) 1009 peak power
17) 998.8
18) 1002

19) 990.1

20) 982.7

21) 977.8

22) 965.2

23) 958.3
24) 949.4
25) 938.3
26) 918.7
27) 907.6 100+ FPS below peak power