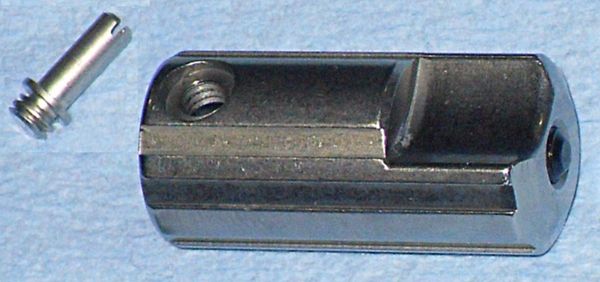 MAGNUM HAMMER for 13XX
THESE HAMMERS INCREASE POWER AND ELIMINATE ROUGH COCKING WHICH IS MOST OFTEN CAUSED BY A LOOSE COCKING PIN.
 MEDIUM STRENGTH THREADLOCKER IS RECOMMENDED TO KEEP THE THREADED PIN FROM LOOSENING. IF THE PIN COMES LOOSE IT CAN BIND AGAINST THE TUBE OR BREAK-OFF. WE USE AND RECOMMEND LOCTITE 243. THE THREADS OF BOTH PARTS SHOULD BE CLEAN AND DRY BEFORE ASSEMBLY BUT LOCTITE 243 TENDS TO WORK WELL EVEN WHEN SLIGHT AMOUNTS OF GREASE OR OIL IS PRESENT


THE THREADED STRIKER PIN CAN  BE ADJUSTED UP TO 3/32" FROM THE FACE OF THE HAMMER. MORE THAN THAT CAN CAUSE THE PIN TO HIT THE VALVE DAMAGING THE BODY AROUND THE VALVE STEM. ELONGATING THE HAMMER-PIN SLOT IS NOT RECOMMENDED WITH THIS HAMMER FOR THE SAME REASON


It's slightly lighter at 1.3 oz compared to the original factory hammer at 1.4 oz. It moves a little quicker which increases FPS. If the striker pin is adjuster forward (up to 3/32" max.) it opens the valve-stem further which empties the valve faster. It also requires less hammer spring force to empty the valve. If used with our 13XX Magnum Adjuster you can fine-tune the hammer spring tension to produce maximun power with less cocking effort and less vibration which increases accuracy. It fits 1377, 1322, PC77, 2289G Backpacker and Crosman Custom Shop 1300KT models. It's only available with a thread-in cocking pin that has a .195" OD shoulder so it doesn't require any modifications to install. THIS HAMMER IS NOTCHED TO ALLOW USE OF DISCOVERY, MAXIMUS, 2300T, 2300S, 2300KT or 2400KT breech. TO MOUNT ONE OF THOSE BREECHES, YOU NEED TO DRILL AND TAP A 4-48 SCREW HOLE EXACTLY 7/16" CENTER TO CENTER BEHIND THE ORIGINAL INTERNAL BREECH SCREW LOCATION. THAT ALLOWS THE BREECH TO MOUNT WITH THE SCREW UNDER THE BOLT. THAT REQUIRES THE BREECH TO BE MOUNTED WITH THE BOLT INSTALLED BUT THE HANDLE AND TUBE PLUG OR POWER ADJUSTER REMOVED.


IT DOES NOT WORK WITH OLDER MODELS THAT HAVE A PULL-KNOB COCKING MECHANISM AND SLIDING BREECH COVER