MAGNUM HAMMER for 22XX, Discovery, Maximus, Fortitude & PCP pistols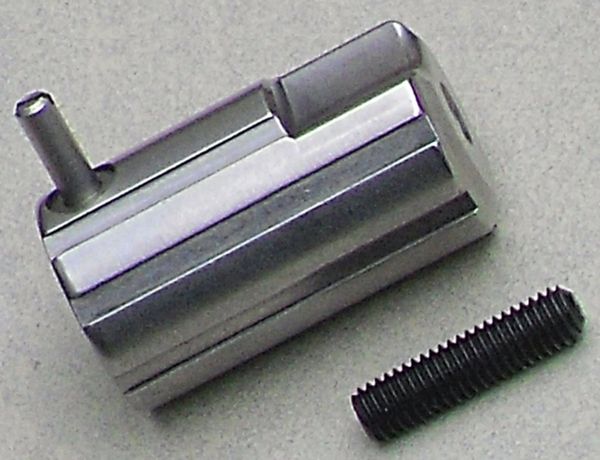 MAGNUM HAMMER for 22XX, Discovery, Maximus, Fortitude & PCP pistols
THIS HAMMER ELIMINATES ROUGH COCKING AND BINDING, THE CAUSE OF WHICH IS MOST OFTEN A LOOSE-FITTING COCKING PIN.


ONE THREAD-IN COCKING PIN IS INCLUDED, SELECT WHICH SHOULDER DIAMETER YOU WANT IN THE DROP-DOWN MENU AND ADD IT TO YOUR CART.


MEDIUM STRENGTH THREADLOCKER IS RECOMMENDED TO KEEP THE THREADED PINS FROM LOOSENING


The striker pin can be adjusted back into the hammer or forward to extend the reach of the hammer. Back further reduces hammer bounce and may improve consistency at lower power settings. Further forward will produce more power with less hammer force, this keeps the gun easier to cock at higher power levels. It should not be adjusted forward so that it hits the valve body before the cocking pin hits the end of the slot in the tube. The valve could be damaged if the striker pin hits it. Generally 1/16" to 3/32" is the furthest forward from the face of the hammer you can adjust the striker pin.


 The
MAGNUM 22XX HAMMER

has a thread-in cocking pin and adjustable striker pin. It weighs about the same as a standard 22XX hammer at 2 oz. It fits all 2240, 2250, 2260, 2300T, 2300S, 2300KT, 2400KT, Discovery, Maximus, and Fortitude models.

 It will also fit Marauder Pistol, 1720T, 1701P & Challenger if you 

cut the thread-in cocking pin shorter to match the original in height and cut the tube slot all the way out the back so the hammer can be removed with the pin installed. Those mods are easy to do with a metal-cutting wheel on a Dremel tool. 

It's listed in two versions. One version has a cocking-pin with a .195" OD shoulder the other has a .240" OD shoulder.

The .240 OD shoulder is the heaviest-duty version but will not fit through the hole in the tube. It requires the pin slot to be extended all the way through the back of the tube as shown in the last photo. This allows it to be installed and removed with the cocking-pin installed.