ALUMINUM TRIGGER CASING for Discovery, Maximus, Fortitude & 2260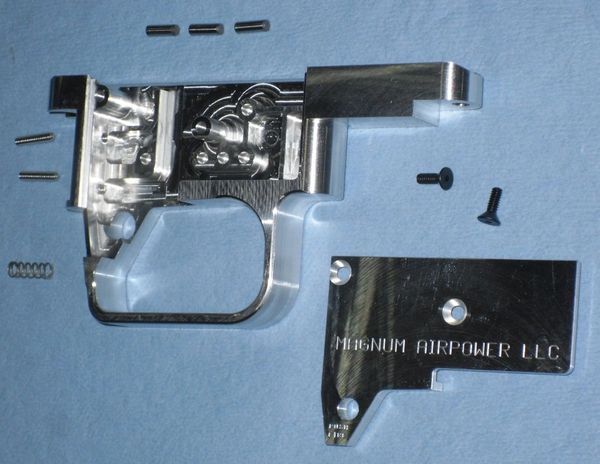 ALUMINUM TRIGGER CASING for Discovery, Maximus, Fortitude & 2260
 This trigger group is a direct fit for all Discovery and 2260 models. The slot in the Maximus and fortitude plastic stock needs to be filed or cut 3/8" longer towards the front to fit or you can upgrade to a Discovery hardwood or custom stock. This is due to the plastic stocks having a shorter slot for the trigger group than wood and custom stocks made for these models.
 This custom trigger casing is machined from super-strong, corrosion resistant 7075 aluminum. It's bare aluminum with no special finish, looks great as is or it can be bead-blasted, wire-brushed, anodized or painted. It's not an exact copy of the original, it's re-engineered to fit and function better as well as be more comfortable. It includes the screws for the cover, a stainless-steel light trigger return spring and two stainless steel adjustment screws to limit trigger travel in both directions. The trigger guard is larger to allow more room for adult-sized fingers.

 As with all bare-metal unfinished machined parts, there are machining marks and light scratches. This is normal and should be expected.