BARREL TUNING & CUTTING SERVICES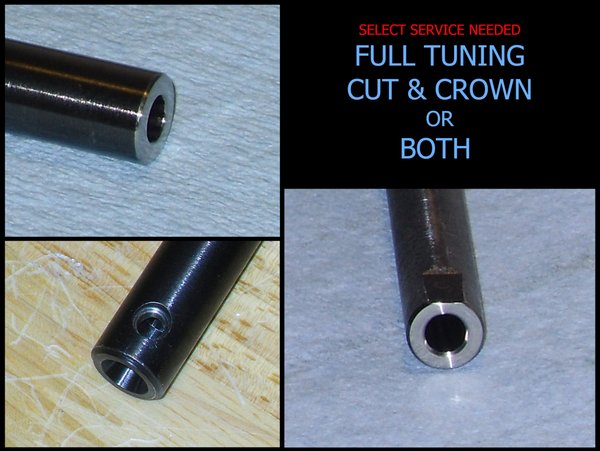 BARREL TUNING & CUTTING SERVICES
IN THE DROP-DOWN MENU ABOVE, CHOOSE THE SERVICE YOU WANT DONE
AFTER PURCHASE, EMAIL TO INDICATE IF THIS IS FOR A BARREL YOU BOUGHT IN ADDITION TO THE SERVICE OR ONE YOU'RE SHIPPING TO US
OUR SHIPPING ADDRESS WILL BE PROVIDED IF YOU'RE SHIPPING A BARREL TO US
THESE SERVICES GENERALLY HAVE A 1-2 WEEK TURNAROUND, SOMETIMES LONGER. IF OUT OF STOCK IT MEANS WE'RE TOO BUSY OR TOO FAR BEHIND TO TAKE MORE ORDERS AT THAT TIME. CONTACT FOR MORE INFO IF THAT'S THE CASE.
The crown is the front face of the barrel and the ends of the rifling grooves and lands on the inside edge. The ends of the grooves and lands need to be free of burrs and symmetrical for the projectile to leave the barrel smoothly, perfectly straight and with evenly formed rifling marks. This is critical to consistent accuracy.
The leade is the back chamber of the barrel where the pellet seats after it's loaded. With a stock Crosman/Benjamin barrel there's often a burr at the top of the barrel port inside the leade and random burrs around the start of the rifling. These flaws cut unevenly shaped grooves into the pellet and in some cases cause deformities. This leads to poor accuracy, loose groupings and is just as important as a good crown.
Some Crosman barrels will shoot well with no tuning but most have enough flaws to cause issues. Even their Lothar Walther barrels, which they do the port, leade and crown on, benefit greatly from a full tuning. Removing burrs and making the beginning and end of the rifling more symmetrical improves accuracy. Enlarging the port to match the transfer sleeve boosts power and consistency. The deburring processes we use smooths the rifling lands, cleans out the grooves, enlarges the port to match the transfer sleeve and makes the crown symmetrical. Then the crown is polished to inhibit rust, this works more effectively than touching-up the bluing.
The second and third photos show standard .177 and .22 crowns after tuning. Those retain their sight-flat on top. The fourth photo shows the fully-round crown of a barrel that's cut shorter. The last two photos show reworked leades and ports. The first of these is a Crosman Lothar Walther barrel that needed light deburring and a .150" port. The last photo is a standard Crosman barrel that needed extensive reworking.