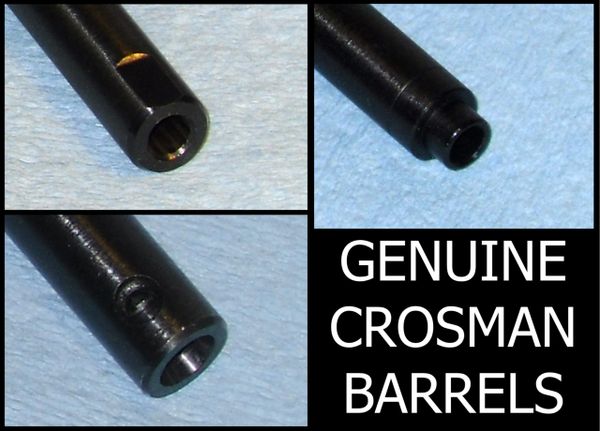 STANDARD CROSMAN BARRELS
Select the barrel length you want, then the caliber. Some barrels are currently only available in one caliber. 
 These are genuine Crosman rifled barrels that are standard 7/16" diameter for 13XX and 22XX. Many of them are interchangeable to allow easy conversion from one caliber to another or to longer or shorter lengths. Most will fit models other than the ones they were intended for. All barrels require a bolt of matching caliber. The second photo shows a standard barrel tip and crown with a sight-flat on the top. All of the listed barrels have this type of front except for the 10.25" which have the style shown in the third photo. None of the barrels listed will fit the older 1377 or 1322 models that have a sliding breech cover unless you convert to a modern steel breech and bolt. None will fit the 1389 Backpacker.

 For 1377, 1322, PC77 and some 1300KT the original barrel length is 10.25". To use a longer barrel you will need a barrel band that allows it to fit. The 1300KT bands I have listed fit exceptionally well. The modded version in the Custom Parts section is the most durable. Barrels shorter than 10.25" will not fit these models.
 7.5" Barrels fit 1740, 2240 and all 2300 models.
 10.1" Barrels fit 1740, 2240, all 2300, 2250 and 2400KT.
 10.25" Barrels fit 1377, 1322, PC77 and 1300KT. They also fit 1740, 2240, 2300KT, 2250 and 2400KT. These barrels have the smaller diameter tip shown in the third photo that fits into the original 13XX barrel band for 10.25" barrels. For use on other models like the 2240, most muzzle brakes for 7/16" diameter barrels will fit. Plastic push-on front sights like the original 2240 version will not.
 14.6" Barrels include two versions. The one we stock is the original 2250 barrel also used for the 2400KT. It has a dimple on top for the barrel band set-screw. The other version has no dimple, it's the original 2289G Backpacker barrel. It's no longer sold by Crosman so we don't have them listed. It's still available on the Crosman Custom Shop 1300KT. 
 18" Barrels fit 1740, 2240, all 2300, 2250, 2400KT, all 13XX, 2289, 1760 and 2260. These are only available on Crosman Custom Shop models so we rarely have them in stock.
 24" And 26" barrels fit all models. The 24" .22 are available in 2260 and Discovery versions. The 24" .177 are only available in the Discovery version. The 26" barrels are the original Maximus version without a threaded adapter on the front. The 24" Discovery and 26" Maximus barrels have a 3/4" long flat spot (notch) on top of the barrel. This is centered 6-5/8" from the breech end. The flat spot is shown in the last two photos. It allows a barrel-mounted rear sight. With 2240 and 2300 there is not enough room for a barrel-mounted rear sight due to the barrel band location. For 2400KT and 2250 models this flat spot is where the barrel band set screw is located, this is shown in the last photo. A longer set screw is required to use this barrel with those models, 5/32" fits best, 3/16 will also work. Although they will fit, I don't suggest using barrels with a rear-sight flat on 2240, 2300, 2250 or 2400 models. The flat is positioned at or in front of the barrel band on these models which creates an easy spot for such a long barrel to bend. There are some custom applications where this is not an issue.