MAGNUM 1322 SNIPER RIFLE with ILLUMINATED SCOPE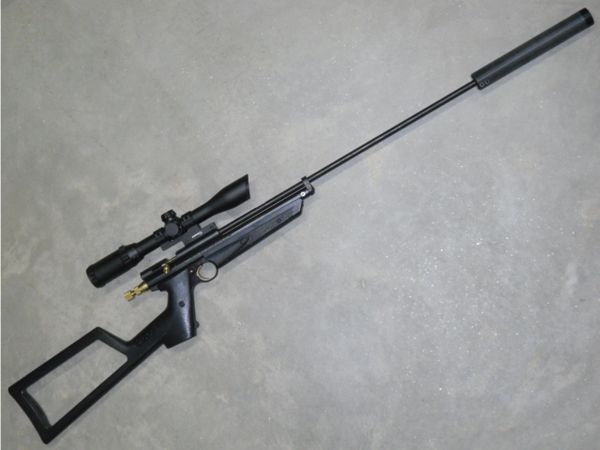 MAGNUM 1322 SNIPER RIFLE with ILLUMINATED SCOPE
 This custom 1322 rifle is loaded with our custom parts and tuned for extreme performance. It's nearly silent with no muzzle blast, all you hear is the hammer click against the valve-stem and the pellet hit the target. It's extremely powerful for a variable-pump gun producing 560+ FPS / 18 FPE with 33.95 grain JSB Beast lead pellets. With 10.03 grain H&N Field Target Trophy Green lead-free pellets it produces over 820 FPS.
 This specific rifle is the prototype built to test our cup-seal version of the Magnum Valve for 13XX. In addition to the custom valve and piston it has our Magnum Hammer for 13XX, .038" WD hammer spring, brass 13XX Magnum Adjuster, radiused tool-steel piston pin, hardened alloy-steel solid custom pivot pin, 1300KT barrel band upgraded with a brass cap screw, Discovery steel breech, custom brass long-nose bolt and handle combo, fully re-worked 26" Maximus barrel, custom transfer sleeve with all of the ports matched to .150" ID, custom brass extra-wide trigger, light trigger spring, Magnum Sear, the first prototype version of our new self-centering Magnum Airgun Suppressor, Centerpoint 3-9 x 32 scope with 50 yard parallax and red/green illuminated reticle and it's assembled with upgrade alloy-steel socket screws in custom sizes for a perfect fit and maximum stability.
 It produces excellent power with 10-15 grain pellets on as little as 4 pumps. With 4 pumps 10 grain fly at around 480 FPS, standard Crosman 14.3 grain fly at around 400 FPS. It can handle up to 35 grain lead pellets or slugs which fly at around 550 FPS with 17 pumps.
 We don't recommend more than 17 pumps. That's where stress on the pump lever reaches it's design limit. Pumping beyand that will produce more power but starts to cause accelerated wear and doesn't produce enough extra power to justify the small gain in FPS.
 The Plano Protector Series extra-large case shown in the photos is included and necessary to ship the gun safely. The scope includes one new CR2032 battery installed, it does not include lens covers which it didn't come with new to begin with. The scope is zeroed and ready to shoot. The point of impact is set for 10 meters using a 14.3 grain pellet with 12 pumps at 620 FPS.
 It weighs 5 lbs 2.5 oz and is 47" long. If you loosen the screws the suppressor can be pushed back onto the barrel up to 4" reducing the length by the same amount. The more you move the suppressor back the louder the gun gets but even all the way back it's still very quiet. Due to the very long barrel this gun is practical for shooting from a bench and in open areas. It's not well-suited for hiking through dense woods, brush or over rough terrain where the long barrel gets tangled-up easily and falling on the gun could bend the barrel.
 This is a smooth-loading, smooth-shooting, nearly silent, extremely accurate and very powerful variable-pump air rifle. Nothing else like it is available anywhere. It's perfect for high-precision target shooting and hunting with same-hole accuracy. It's powerful enough to take small game humanely.
 For maintenance a drop of our high-performance airgun oil should be added directly into the pump chamber about every 200 shots or 2000 pumps. The lubrication directions posted on our main website in the TECHNICAL INFO section under LUBRICATION  should be followed. Having the cup-seal version of our custom piston and valve makes this a very low-maintenance gun, it requires very little effort or expense to keep it shooting perfectly for decades of regular use. We offer servicing and repair for all of the guns we sell at very reasonable rates. All guns and custom parts are guaranteed to be free of defects when received.