CUSTOM 2300S CARBINE with SILENCER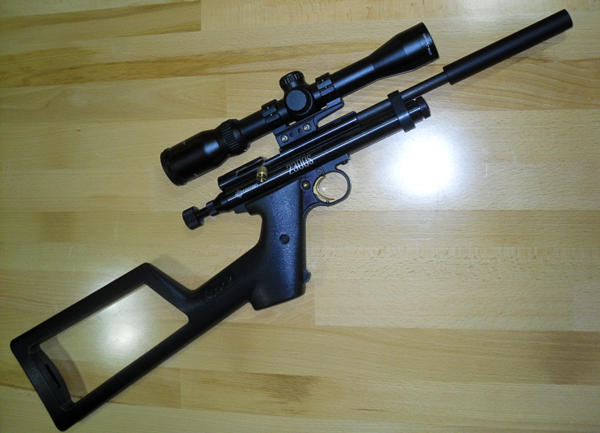 CUSTOM 2300S CARBINE with SILENCER
SCOPE & MOUNT NOT INCLUDED - SHIPPED AS SHOWN IN SECOND PHOTO
A scope or red dot sight can be included for an additional charge, that's mounted, zeroed and ready to shoot.

This custom-built, suppressed 2300S carbine has been converted into a very quiet and much more powerful small-game hunter. It's powered by one 12 gram CO2 cartridge. The 10.1" Lothar Walther barrel is from a 1701P, it has a larger transfer port and is much better machined than the original 2300S barrel. This barrel has a polished lead and crown for easier loading and flawless accuracy. The custom trigger and safety is 360 brass. The custom trigger cover is 6061-T6 aluminum anodized black. The sear is custom with a light spring. The upgrade grips are also from a 1701P. The adjustable over-travel screw (4th photo) limits trigger movement for a short, crisp pull. That screw is stainless steel, shorter and custom-installed in a more comfortable/natural position than with the original 2300S frame. These upgrades give the trigger group excellent feel and consistent performance with a pull of about 1 lb. 8 oz. The Magnum Adjuster produces maximum power, maximum shot count or any level of performance in between. The Magnum Valve Body and ultra-light valve spring produces excellent efficiency even though it also produces more power than any other CO2 valve in the industry. It has a custom valve screw that is much stronger and fits the tube perfectly for stable port alignment. It includes a Discovery breech with a full scope rail, custom Torx-drive inner breech screw, black steel long-nose bolt, Discovery barrel band and it's assembled with upgrade alloy-steel hex socket screws. This gun is very solidly built, perfectly stable, smooth loading, smooth shooting, powerful for it's type and very accurate. The suppressor (silencer) is semi-integrated with the barrel, self-centering to eliminate pellet clipping and it quiets the gun so much it won't register on my decibel meter. It's not silent, just very backyard friendly.
Due to the large transfer port diameter, smaller pellets tend to dip into the port and can be hard to load smoothly. Larger pellets like Crosman Ultra Magnum 10.5 grain and JSB Exact Monster 13.43 grain load and shoot very well. In a 70° environment it shoots the 10.5 grain at around 525 FPS and 6.4 FPE. The 13.43 fly at around 480 FPS and 6.87 FPE.
CO2 produces more power in warmer temps, less in cooler. Minimum power can produce 250-300 FPS for as many as 175 shots from one CO2 cartridge. Maximum power will produce around 25 shots per cartridge if the adjuster is set right.

After installing a new CO2 cartridge the gun needs to be fired once (unloaded) to pierce the cartridge. This is not a flaw, it's how this model is designed to operate. One drop of SAE 30 airgun oil should be placed on the tip of each cartridge before installation. This keeps the piercing pin from getting stuck in the cartridge and keeps the internals and barrel lubricated as it shoots through the system. I have HIGH-PERFORMANCE AIRGUN OIL listed, it provides excellent corrosion and wear resistance and the applicator bottle is easy to apply.