CUSTOM BOLT & HANDLE COMBOS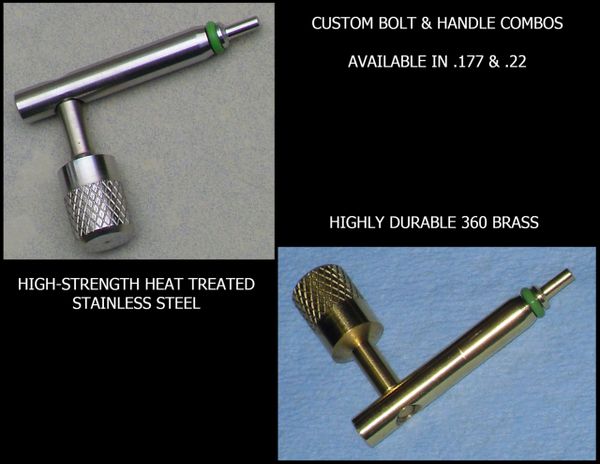 CUSTOM BOLT & HANDLE COMBOS
WE'RE HOPING TO HAVE THE BRASS .177 BOLTS BACK IN STOCK BY THE END OF AUGUST
 These bolt & handle combos are made to fit a work together with a high degree of strength and precision. They fit Crosman barrels and breeches perfectly and work smooth.
 
 The long-nose bolts are shaped and sized perfectly for maximum air flow. They work well with all types of pellets.
 The handles are 1.25" long from end to end. They extend out 1-1/16" from the bolt. This size is in-between the standard Crosman short handles and long handles on 2300S, Discovery and Maximus models.

 The heat-treated 410 stainless steel version are extremely strong. They were developed to handle the stress of our .045" WD Magnum Hammer Springs with a Magnum Adjuster at full tension.
 
 The 360 brass versions are highly durable but not as strong as the heat-treated stainless steel. They are not recommended for use with the .045" WD Magnum Hammer Spring if a lot of preload is used.