CUSTOM-TUNED BULLDOG .357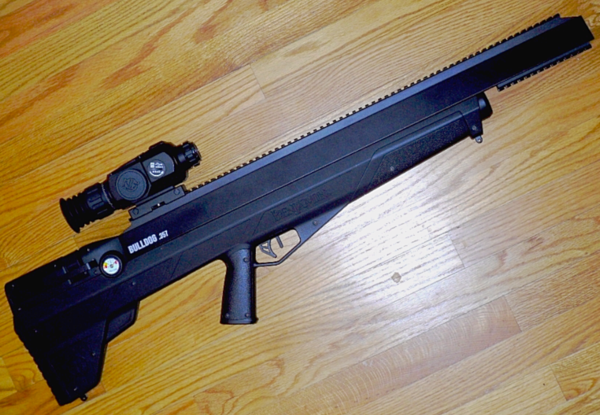 CUSTOM-TUNED BULLDOG .357
Sold out as of 10/24/17. I may stock this version again at some point but have too many other projects going at the moment. I leave this listing up for informational purposes.
This .357 caliber rifle is side-lever bolt action. It's tuned and modified for improved accuracy, more power and a better balanced power curve. It's very accurate producing quarter-sized groups at 20 yards. It shoots 81 grain JSB pellets at 1000+ FPS. With 145 grain bullets the first five shots through the chrony were 811, 822, 828, 819 and 808. All five shots were 210-220 FPE. With heavier ammo it can produce 230+ FPE. This level of performance was accomplished with the mods described below and the original hammer spring adjusted to full tension. A starting pressure of 3100-3200 PSI is optimal.
The second photo shows all parts that were improved and is fallowed by close-ups of some of those parts. The last two show the starting PSI and how to adjust the power level. I set it to low power by backing the striker spring adjuster until it's flush with the housing. For high-power I tighten the spring adjuster until it stops.


This is a brief explanation of the work done. The plastic sleeve that restricts the transfer port was eliminated. The valve and barrel ports were enlarged to match the transfer port. Contact points and surfaces were polished to smooth the trigger, bolt and striker action. The valve and striker springs were re-ground to square them better, this improved valve, bolt and striker consistency. The sealing edge on the valve stem was rounded more to improve air flow. The front cap on the shroud was bored off-center so I enlarged the hole just enough to correct that. All of the o-rings were upgraded to 90D for improved durability and a more stable shroud mounts. All of the external screws were upgraded to heat-treated stainless steel so the entire exterior is weatherproof.

SHOT COUNT AND HAND PUMP USE : Starting around 3100 PSI, a five shot string on full power leaves about 2300. Using a Benjamin hand pump it takes about 90 pumps to get back to 3100. After one full-power shot it takes about 17 pumps, 3 full-power shots about 55 pumps. Adjusted to low power it takes about 35 pumps after 5 shots and about 55 pumps after 10 shots. With 145 grain a ten shot string on low power starts at 500 FPS and climbs to 640. With 81 grain 10 shots start at 650 and climb to 790. Using a hand pump is relatively practical if you limit yourself to 10 low power or 3 high power shots before filling. These results were achieved using 145 grain bullets and 81 grain pellets. This gun gets difficult to pump as the pressure nears 3000 PSI, filling from a tank may be necessary for some.