CUSTOM DISCOVERY VALVE SCREWS for 3200 PSI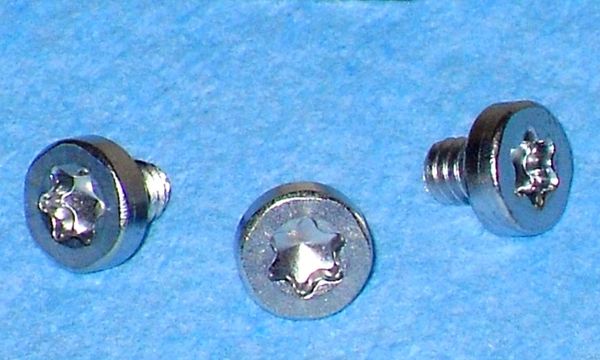 CUSTOM DISCOVERY VALVE SCREWS for 3200 PSI
 These screws are designed by Magnum Airpower LLC and custom manufactured.
 THESE SCREWS DO NOT FIT THE MAXIMUS. I have upgrade Maximus valve screws in a different listing.

 The second and third photos show just one of these screws holding the valve with 3300 PSI in the tube. The pressure on the gauge is clearly visible in the third photo. This is the strongest screw design that exists for Discovery models. All three screws should be used, this allows up to 3200 PSI within a 3:1 safety margin.
 T25 TORX BITS FOR THESE SCREWS ARE NOW LISTED SEPARATELY IN THE TORX-BITS SECTION
 The Magnum Valve I have listed produces the most power of any custom Discovery valve and is also the most efficient at any power level. It requires these screws to operate at 3000-3200 PSI which produces around 62 FPE.  

 These are the strongest direct-fit upgrade screws in existence for Discovery models. They safely allow you to increase the operating pressure up to 3200 PSI with a safety ratio above 3:1. They are the same length and thread size as the OEM screws so they are a direct replacement with no modifications to your gun. The head is slightly larger so they fit the holes in the tube perfectly and distribute the force more evenly to the tube. Empty all air or CO2 pressure from your airgun before installing these screws or a fatal injury could occur.
 Except for the original valve screws, the Discovery PCP tube assembly is as strong as the ones on similar Crosman/Benjamin 3000 PSI models like the Marauder Pistol and 1701P. All are made with the same 1020 DOM steel tubing. All of the other pressure containing components are as strong, the stainless steel fill adapter is actually stronger than the aluminum one on the PCP pistols. It's perfectly safe to use more pressure in the Discovery when the valve screws are correctly upgraded. I have destructively tested this screw design beyond the claims confirmed in the photos. 

 These are 410 stainless steel heat treated to meet metric class 12.9 with a specified hardness of HRc 39-43. The approximate tensile strength is 185,000 PSI.
 With the Magnum Valve these screws are a perfect easy fit. With a standard Discovery valve they fit the valve very snug, the last couple turns require a little extra force to get the screw head snug against the valve body. Do not over-tighten, they should be hand-tight using a driver handle. Using a wrench or ratchet can damage the threads in a stock valve. The screws are actually stronger when snugged down firmly but not torqued-down extremely tight. The more force on the screw head when tightened (clamping force) the weaker the shear-strength of the screw. 
   DO NOT PRESSURIZE A TUBE WITH ONLY ONE SCREW AS SHOWN IN THE PHOTOS, A LETHAL ACCIDENT COULD OCCUR. THAT DEMONSTRATION WAS DONE IN A CONTROLLED ENVIRONMENT WITH PREPARATIONS THAT MADE IT RELATIVELY SAFE TO DO.
 The following chrony test results compare a standard Discovery .22 to one modified with a combination of these and other custom parts I offer. 14.3 Grain pellets were used for the first two tests and testing stopped at 100 FPS below peak power. The 3rd. and 4th. tests were done using a Magnum Valve for a lot more power. 

Unmodified Discovery .22 starting at 2000 PSI :
1)      888.1   muzzle velocity in FPS (feet per second)
2)      901.0   peak power

3)      899.8

4)      878.8

5)      877.7

6)      871.5

7)      855.6

8)      854.9
9)      849.6

10)    843.0
11)    837.1
12)    836.0
13)    827.6
14)    819..7
15)    813.4
16)    797.1   100+ FPS below peak power
.22 Discovery with custom valve screws, Magnum Adjuster, wide-bore gauge port (or bypass cap), 26" Maximus barrel and a starting pressure of 3200 PSI. 
1)     958.8
2)     965.9

3)     971.2

4)     973.4

5)     977.2

6)     978.9

7)     984.5

8)     991.6

9)     994.7

10)   989.3

11)   997.6

12)   1000
13)   1007
14)   1002

15)   1005
16)   1009   peak power
17)   998.8
18)   1002

19)   990.1

20)   982.7

21)   977.8

22)   965.2

23)   958.3
24)   949.4
25)   938.3
26)   918.7
27)   907.6   100+ FPS below peak power
 The following chrony results were produced with an upgraded Discovery .22. It had a 26" Maximus barrel, wide-bore gauge port, 3500 PSI gauge, Magnum Hammer Spring, Magnum Adjuster set 2 turns back from full spring compression, Magnum Valve with a short cap and custom valve screws for higher pressure. The transfer sleeve and barrel port were both deburred and polished which enlarged each by about .003".
PSI     PELLET   FPS     FPE
3200   10.03 g    1288    36.9
3200   14.3 g      1142     41.4
3200   18.21 g    1086     47.7
3200   25.39 g    1000    56.3
3200   33.95 g     905     61.7
  The following chrony results were produced with the same gun as above but with the Custom Bypass Cap instead of the wide-bore gauge port. The adjuster was set  3.5 turns back from full spring compression. The starting pressure was 3200 PSI. JSB Jumbo Monster 25.39 and Jumbo Beast 33.95 produced the best consistency and groupings of about a dozen types and weights tested. Heavy pellets work best at these extreme power levels.    
1)    817  FPS    33.95 g    50  FPE
2)    833
3)    837
4)    843
5)    845
6)    850
7)    853                             54  FPE
8)    849
9)    838
10)  824
11)  816                            50   FPE