CUSTOM DISCOVERY VALVE SCREWS for 3000 PSI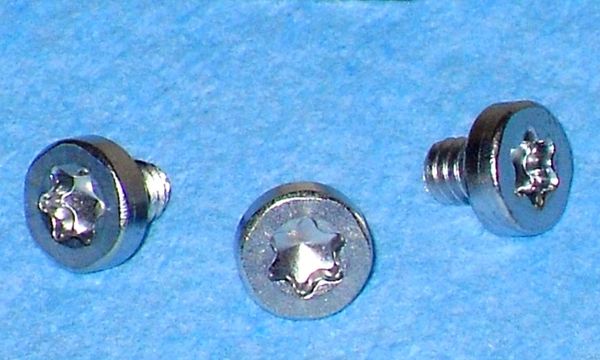 CUSTOM DISCOVERY VALVE SCREWS for 3000 PSI
THESE SCREWS ARE DESIGNED BY MAGNUM AIRPOWER LLC AND CUSTOM MANUFACTURED. THEY ARE NOT AVAILABLE FROM ANY OTHER SELLER.
THEY DO NOT FIT MAXIMUS, WE HAVE CUSTOM SCREWS LISTED FOR THAT MODEL

 The second and third photos show just one of these screws holding the valve with 3300 PSI in the tube. The pressure on the gauge is clearly visible in the third photo. This is the strongest screw design that exists for Discovery models. All three screws should be used, this allows up to 3000 PSI within a 3:1 safety margin. If used with our custom fill adapters and Magnum Valve the safe limit is 3300 PSI.
 A T25 Torx bit is listed separately if you need one, those are in the TOOLS & SUPPLIES CATEGORY. The factory Discovery valves are made of relatively soft aluminum with threads that can strip-out easily. The screws should be snug against the valve body. They should be hand-tight using a driver handle. Using a wrench or ratchet can damage the valve threads. If any of the screw holes are stripped do not use the valve, it needs to be replaced.

PLEASE READ OUR TUBE DEFECTS PAGE BEFORE USING ANY OF OUR CUSTOM BULK-FILL, PCP OR HPA PARTS. THERE ARE RARE BUT IMPORTANT SAFETY ISSUES TO BE AWARE OF WHEN WORKING WITH HIGH-PRESSURE AIRGUNS