CUSTOM FILL ADAPTERS & PARTS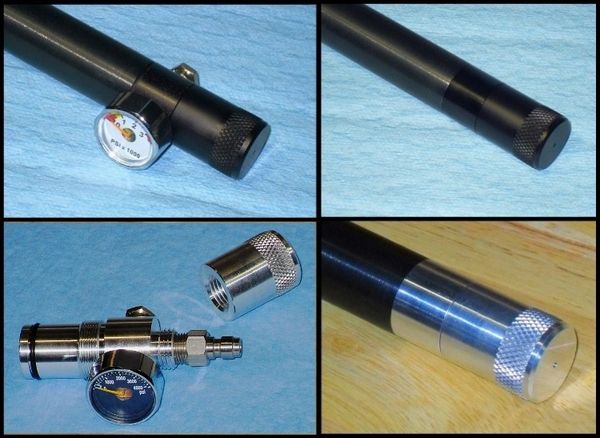 CUSTOM FILL ADAPTERS & PARTS
Please read our TUBE DEFECTS page for details about wall thickness and threading issues with some 22XX tubes.

THESE ADAPTERS DO NOT FIT DON COTHRAN TUBES. HE MAKES HIS TUBE THREADS FIT TIGHTER THAN CROSMAN DOES. WE MAKE OUR ADAPTER THREADS SLIGHTLY OVER-SIZED TO FIT CROSMAN TUBES TIGHTER.
 The versions with a gauge also have a burst disc. The socket on this adapter is very shallow and only fits two brands of burst disc. The original Pure Energy discs fit well but they are no longer being produced, the genuine ones are very hard to find and the substitutes many sell don't thread in far enough. The low profile Guerrilla Air Pro discs fit perfectly. They need to be threaded in hand tight, then snugged down about 1/8 turn with a 4 mm hex wrench. If over-tightened they blow at a lower pressure. Both compatible discs are shown in the last photo.

 These adapters should be installed by hand only, no tools should be used. The threads are cut to fit snug for increased strength. Due to manufacturing variances at Crosman, some tubes fit tighter than others. For safety reasons these adapters are designed to fit well with looser-fitting tubes. Some tubes will be a tight fit but should go in by hand. The adapter should be well lubricated, the threads on the adapter and in the tube should be very clean, otherwise the adapter may bind. On rare occasions a tube will be extremely tight and simply won't fit. In that case you can ship the tube to me to have the threads reworked. The other option is to buy a tube and adapter together so we can make sure they fit correctly. This is an issue caused by Crosman's loose manufacturing standards. We're dedicated to making parts that are as safe as possible, we'd rather sell an adapter that fits too tight in some cases than one that leaves room for a possible failure.
With these fill adapters 3000-3300 PSI is the safe limit for Crosman / Benjamin 7/8" OD tube assemblies if three of our custom valve screws are correctly installed to reinforce the valve. Otherwise you should only use the pressure the manufacturer suggests.
 These fit all Crosman / Benjamin 7/8" OD tubes. This includes Discovery, Maximus, Challenger, Marauder Pistol, 1701P, 1720T, 2240, 2250, 2260, 2300T, 2300S, 2300KT, 2400KT and similar models with tubes threaded inside the front. Models that operate on 12 gram CO2 cartridges require additional upgrades to convert to bulk-fill, PCP or HPA. They are available in 4 versions. All include thread-on caps. The versions with a pressure gauge also have a 5K burst disc for added safety. The gauge is industrial grade for hydraulic, gas and air use. They are not cheap paintball gauges like Crosman and most other airgun makers use on their PCP and dual-fuel models. The 5K burst disc will blow as pressure nears about 4500 PSI. Both gauged and non-gauged versions are listed in plain 6061-T6 aluminum and black anodized 6061-T6 aluminum. 
The version with a gauge should be threaded in all the way, then backed off until it's in the position you prefer. It does not need to be tightened against the front of the tube. It's actually stronger when not tightened all the way, there's less overall stress on the threads. It can't move once there's pressure in the tube and tends to lock in place after being pressurized briefly. If it ever moves when pressure is low or empty simply re-position it before filling.