CUSTOM PISTOL TRIGGER GROUP with ADJUSTABLE SPRING 1-6 LB PULL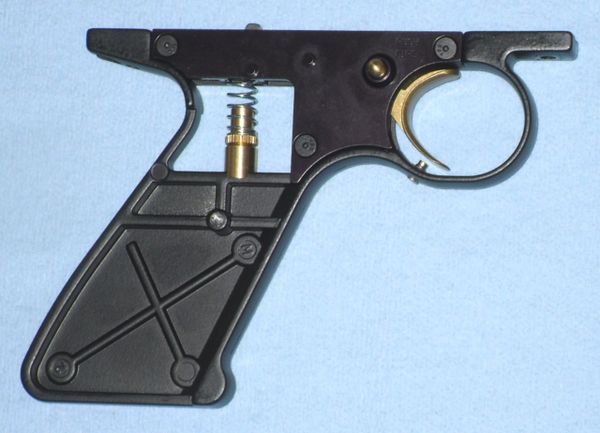 CUSTOM PISTOL TRIGGER GROUP with ADJUSTABLE SPRING 1-6 LB PULL
THIS PART CAN'T BE SHIPPED OUTSIDE THE US
This complete custom trigger group fits Benjamin Marauder Pistol and Crosman models 1701P, 1720T, 1377, 1322, 2289G Backpacker, 1300KT, 1740, 2240, 2250, 2300T, 2300S, 2300KT, 2400KT and similar models. It's a single-stage setup with a very short pull, only about 3/64" (.046") of trigger travel. It's extremely responsive which makes it very popular with hunters and competitive shooters who overwhelmingly prefer it to Crosman's clunky simulated two-stage and standard pistol groups. The frame is the only original Crosman part, all the other components are custom.
This custom trigger group has all of our upgrades parts including an adjustable sear spring, custom brass trigger, Magnum Sear, brass safety, 6061-T6 aluminum cover, adjustable overtravel stop and hardened alloy-steel pins. The pull is adjustable in the 1-6 lb range. Pull 
varies with hammer-spring tension and how smooth and easy your hammer works. It will vary from around 1 lb with models like 2300S and 2300T with very light hammer springs to 2-6 lbs with models that have heavy hammer springs pre-loaded with power adjusters. Unnecessary forward movement of the trigger is completely eliminated by the trigger design. The overtravel screw is adjustable to control how far the trigger can continue to move after the hammer releases. We adjust it to about 3/64" (.046") of travel to start with. 
Further adjustment to shorten or lengthen travel may be desired. Too short of travel will prevent the gun from firing when the trigger is pulled. This creates a dangerous situation where the hammer is partially released, it could fire unexpectedly in this condition. To correct this safely, fully cock the gun and engage the safety. Then adjust the screw away from the trigger until it will fire correctly.