CUSTOM TRIGGER KIT for Discovery, Maximus, Fortitude & 2260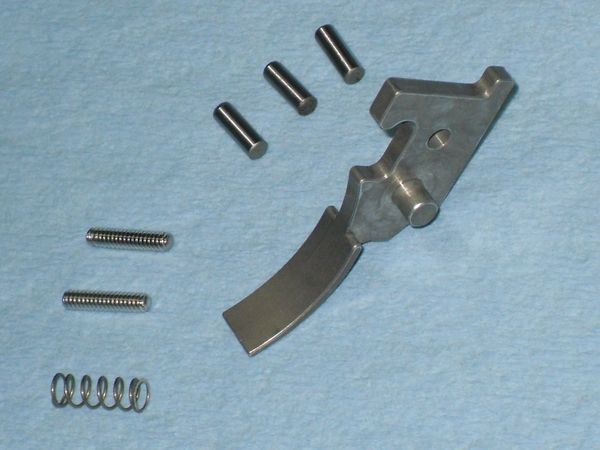 CUSTOM TRIGGER KIT for Discovery, Maximus, Fortitude & 2260
THE COLOR OF THIS TRIGGER IS HARD TO SEE ACCURATLEY IN THE PHOTOS, IT'S POLISHED GUN-METAL GREY, NOT BRIGHT ALUMINUM LIKE OUR OLDER VERSIONS
 This trigger is machined from 7075 aluminum which is the strongest of all commercial aluminum alloys, stronger than many types of mild steel and stainless steels only much lighter. The extra-light return spring and adjustment screws are stainless steel. The upgrade trigger, sear and link pins are hardened alloy steel and a full .125" diameter which fits better than the factory pins which are slightly smaller at .124" OD. The set screws adjust trigger movement (travel) in both directions. It can be adjusted to a very short travel (hair-trigger) for lightning-fast response and greatly improved accuracy. With the thinnest trigger blade in the industry it creates a lot more room inside the trigger guard which greatly improves comfort, especially for adult sized fingers. No other trigger produces this level of comfort and performance. The ultra-thin design is extremely strong and durable, it will easily last the life of your gun. It fits all Discovery, Maximus, Fortitude, 1760 and 2260 models.
 For standard polymer casings, the set screws form their own threads as you install them. They turn-in smooth and easy, this is not a difficult process. A .050 hex wrench or bit is required (not included) to install and adjust the screws, this is generally the smallest size in a standard inch hex-wrench (Allen wrench) set. The top screw adjusts how high the sear rises, this should be adjusted so the safety engages smoothly without leaving forward travel for the trigger. The bottom screw adjusts how far down the sear will move, it can be adjusted to limit trigger pull to only what is need for the gun to fire. Too short of a travel adjustment can prevent the gun from firing when the trigger is pulled. This is a dangerous situation where the hammer is partially released and could fire unexpectedly. To correct this safely, fully cock the gun and engage the safety. Then adjust the screw away from the trigger until it will fire correctly.
 The custom power adjusters, hammer springs and valves we have listed are designed to produce more power with less hammer force, this helps reduce trigger pull while retaining or gaining power.