DEAD-BLOW HAMMER for 22XX, Discovery, Maximus & Fortitude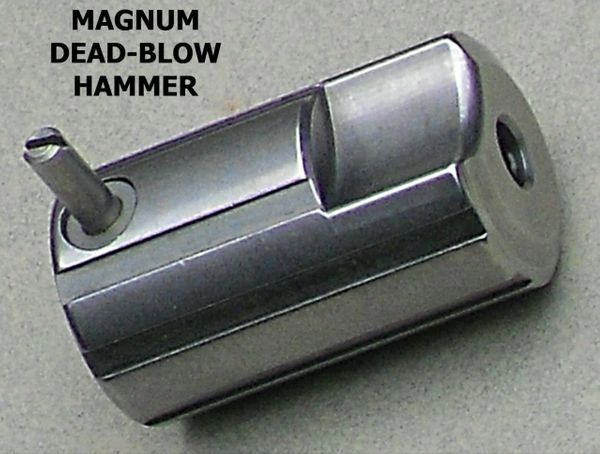 DEAD-BLOW HAMMER for 22XX, Discovery, Maximus & Fortitude
THESE HAMMERS ELIMINATE ROUGH COCKING AND BINDING, THE CAUSE OF WHICH IS A LOOSE-FITTING COCKING PIN


ONE THREAD-IN COCKING PIN IS INCLUDED, SELECT WHICH SHOULDER DIAMETER YOU WANT IN THE DROP-DOWN MENU AND ADD IT TO YOUR CART. THIS HAMMER IS LISTED IN HIGH-PRESSURE AND LOW-PRESSURE VERSIONS, MAKE SURE YOU SELECT THE RIGHT ONE, MORE INFO ON THAT BELOW
 MEDIUM STRENGTH THREADLOCKER IS RECOMMENDED TO KEEP THE THREADED PINS FROM LOOSENING

 The striker pin can be adjusted back into the hammer or forward to extend the reach of the hammer. Back further reduces hammer bounce and may improve consistency at lower power settings. Further forward will produce more power with less hammer force, this keeps the gun easier to cock at higher power levels. It should not be adjusted forward so that it hits the valve body before the cocking pin hits the end of the slot in the tube. The valve could be damaged if the striker pin hits it. Generally 1/16" to 3/32" is the furthest forward from the face of the hammer you can adjust the striker pin.


 The
MAGNUM DEAD-BLOW HAMMER

 is listed in low-pressure and high-pressure versions. The low pressure version works well at up to around 2500 PSI and is the quietest hammer design available anywhere. It doesn't have a stiff-enough piston to open the valve effectively at higher pressures. The high-pressure version will work well up to 3300 PSI but isn't as quiet. Both have a thread-in cocking pin and internal shock-absorber. They weigh the same as a standard notched 22XX hammer at 2 oz. They both reduce vibration, ping and hammer bounce. They fit all 2240, 2250, 2260, 2300T, 2300S, 2300KT, 2400KT, Discovery, Maximus, and Fortitude models.

 It will also fit Marauder Pistol, 1720T, 1701P & Challenger if you cut the thread-in cocking pin shorter to match the original in height and cut the tube slot all the way out the back so the hammer can be removed with the pin installed. Those mods are easy to do with a metal-cutting wheel on a Dremel tool. Both versions are listed with two additional versions. One version has a cocking-pin with a .195" OD shoulder the other has a .240" OD shoulder. The .240 OD shoulder is the heaviest-duty version but will not fit through the hole in the tube. It requires the pin slot to be extended all the way through the back of the tube as shown in the last photo. This allows it to be installed and removed with the cocking-pin installed.

DUE TO THE SHOCK-ABSORBING EFFECT AND RECESSED STRIKER FACE, THE LOW-PRESSURE VERSION MAY REDUCE MAXIMUM POWER OUTPUT BY 5-15 PERCENT. THE HIGH-PRESSURE VERSION MAY REDUCE IT BY UP TO 5% DEPENDING ON THE STARTING PRESSURE. A STRONGER HAMMER SPRING OR POWER ADJUSTER CAN BE USED TO COMPENSATE FOR THE POWER LOSS. IF MAXIMUM POWER IS YOUR GOAL, THE MAGNUM HAMMER FOR 22XX IS RECOMMENDED.