DEAD-BLOW HAMMER for 22XX, Discovery, Maximus & Fortitude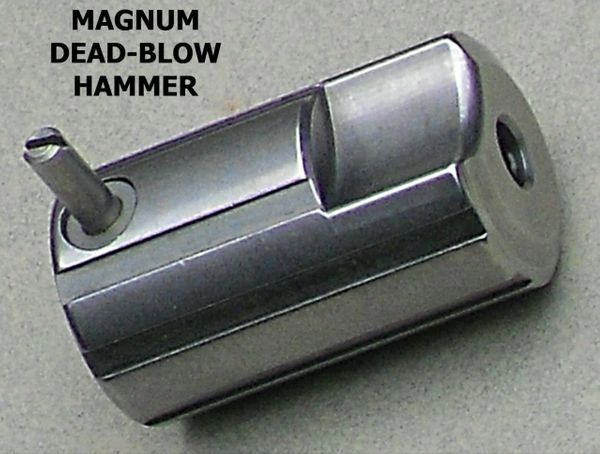 DEAD-BLOW HAMMER for 22XX, Discovery, Maximus & Fortitude
SELECT THE PIN-SHOULDER DIAMETER AND LOW OR HIGH-PRESSURE VERSION FROM THE DROP-DOWN MENU ABOVE. DETAILED INFO ON THESE OPTIONS IS EXPLAINED BELOW
 MEDIUM STRENGTH THREADLOCKER IS RECOMMENDED TO KEEP THE THREADED PIN FROM LOOSENING. IF THE PIN COMES LOOSE IT CAN BIND AGAINST THE TUBE OR BREAK-OFF. WE USE AND RECOMMEND LOCTITE 243. THE THREADS OF BOTH PARTS SHOULD BE CLEAN AND DRY BEFORE ASSEMBLY BUT LOCTITE 243 TENDS TO WORK WELL EVEN WHEN SLIGHT AMOUNTS OF GREASE OR OIL IS PRESENT


It's listed in low-pressure and high-pressure versions.
The low pressure version works well with CO2 and high-pressure air up to into the 1800-2200 PSI range. That's with our custom Magnum Valves and factory Crosman / Benjamin valves except for Discovery. Discovery valves are very hard to open due to the large diameter head on the stem which increases the amount of force holding it shut. The low pressure version is the quietest hammer design available anywhere. It doesn't have a stiff-enough striker piston to open a valve effectively at higher pressures.

The high-pressure version works well up into the 2800-3300 PSI range. It isn't as quiet as the low-pressure version due to having a stiffer striker piston that doesn't absorb as much of the strike vibration.
Both versions have a thread-in cocking pin and internal shock-absorber. Both versions weigh about the same as a standard notched 22XX hammer at 2 oz. Both reduce vibration, ping and hammer bounce. The low-pressure version does all of this to a larger extent but won't work above a certain pressure becasue the striker piston will push back easier than the valve stem will push in at those higher pressures.
Both versions fit all 2240, 2250, 2260, 2300T, 2300S, 2300KT, 2400KT, Discovery, Maximus, and Fortitude models.
They 
also fit Marauder Pistol, 1720T, 1701P & Challenger if you 
cut the thread-in cocking pin shorter to match the original pin height. To do that you will need to extend the pin slot (as shown in the last photo) so the hammer can be inserted and removed with the pin installed.
 We suggest using the .240 shoulder version of the cocking pin if you plan to use these hammers this way. Those mods are easy to do with a metal-cutting wheel on a Dremel tool or a hacksaw blade, then a small hobby file to smooth out your cuts.
Both versions are listed with two additional options. One has a cocking-pin with a .195" OD shoulder, the other has a .240" OD shoulder.
The .240 OD shoulder is the heaviest-duty version but will not fit through the hole in the tube. It requires the pin slot to be extended as shown in the last photo so it can be inserted and removed with the pin installed.
DUE TO THE SHOCK-ABSORBING EFFECT IT OPENS THE VALVE STEM A LITTLE LESS WHICH LIMITS HOW MUCH POWER IT CAN PRODUCE
. If maximum power is your goal the version we have listed with an adjustable striker pin is the one we recommend.


WE HAVE A NEW VERSION OF THE DEAD-BLOW HAMMER GOING INTO PRODUCTION SOON, THAT VERSION WILL PRODUCE MORE POWER BUT STILL NOT AS MUCH AS THE ONE WITH THE ADJUSTABLE STRIKER PIN.