GAUGE BYPASS CAP for Benjamin Discovery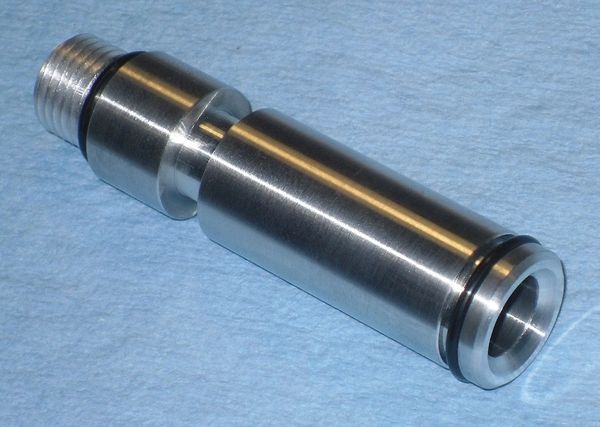 GAUGE BYPASS CAP for Benjamin Discovery
 This is a new version of the extended valve cap I used to sell. It is shorter and has a wider bore. It produces a little more power than the old version and creates more room inside the tube for air. 
 For Discovery this eliminates the pressure gauge and increases air-flow to the valve. It is intended for use with my
MAGNUM ADJUSTER
,
CUSTOM DISCOVERY VALVE SCREWS
 and a higher operating pressure to produce a huge increase in performance. The
WIDE-BORE GAUGE PORT
 produces the same performance and allows you to have a pressure gauge. Some need or prefer to eliminate the gauge for a variety of reasons so I try to keep both parts stocked. This cap is made of 6061-T6 aluminum for excellent strength and corrosion resistance.
 The Discovery can safely operate at 3000-3200 PSI with the custom valve screws. This higher pressure in addition to the Magnum Adjuster will produce a lot more power and/or higher shot count. The Magnum Adjuster is widely considered the best power adjuster on the market. Operating at 2200-2600 PSI with these parts will produce 1000-1050 FPS using standard 14.3 grain lead pellets. For pressure above 2700 PSI a
MAGNUM HAMMER SPRING
is recommended. Using that spring a Discovery .22 with all of these upgrades can produce 1150 FPS with a 10 grain pellet. Chrony test results are listed below to show what kind of performance to expect.
 With this cap installed the gun will not have a pressure gauge. It should be filled with a hand pump or tank that has a gauge to monitor fill pressure, most do.
 The following chrony test results compare a standard Discovery .22 to one modified with a combination of this and other custom parts I offer. 14.3 Grain pellets were used for both tests. Testing was stopped at 100 FPS below peak power. 

Unmodified Discovery .22 starting at 2000 PSI :
1)      888.1   muzzle velocity in FPS (feet per second)
2)      901.0   peak power

3)      899.8

4)      878.8

5)      877.7

6)      871.5

7)      855.6

8)      854.9
9)      849.6

10)    843.0
11)    837.1
12)    836.0
13)    827.6
14)    819..7
15)    813.4
16)    797.1   100+ FPS below peak power
.22 Discovery with custom valve screws, Magnum Adjuster, wide-bore gauge port (or bypass cap), 26" Maximus barrel and a starting pressure of 3200 PSI. 
1)     958.8
2)     965.9

3)     971.2

4)     973.4

5)     977.2

6)     978.9

7)     984.5

8)     991.6

9)     994.7

10)   989.3

11)   997.6

12)   1000
13)   1007
14)   1002

15)   1005
16)   1009   peak power
17)   998.8
18)   1002

19)   990.1

20)   982.7

21)   977.8

22)   965.2

23)   958.3
24)   949.4
25)   938.3
26)   918.7
27)   907.6   100+ FPS below peak power