GAUGE ASSEMBLY PARTS - select parts individually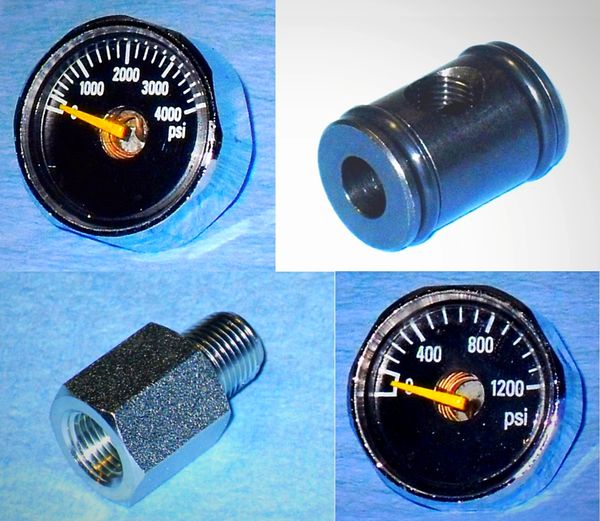 GAUGE ASSEMBLY PARTS - select parts individually
 These parts fit Discovery, Maximus, Marauder Pistol, Fortitude, 1701P, 1720T and are great for 22XX PCP and bulk-fill conversions. The gauge can be mounted directly into the wide-bore port if a low profile is desired. The extension allows the gauge to sit higher to fit better with a rifle stock. The wide-bore gauge port is original to the Marauder Pistol and other Crosman PCP pistols, it's not an upgrade for those, just a replacement.


 THESE PARTS SEAL WITH THE MILITARY GRADE THREAD TAPE WE HAVE LISTED. THE GAUGE PORT IS INTENDED TO BE USED WITH THESE GAUGES AND THIS EXTENSION. THESE PARTS ARE NOT INTERCHANGEABLE WITH STANDARD GAUGE ASSEMBLY PARTS ON DISCOVERY, MAXIMUS AND FORTITUDE MODELS. THEY ARE COMPATIBLE WITH MARAUDER PISTOL, 1720T AND 1701P GAUGE PORTS.




 We no longer list the standard Crosman/Benjamin gauges. We had to discontinue those due to leaks and other quality control issues. Our 1200 and 4000 PSI GAUGES are much better quality. The 1200 is great for CO2 which generally ranges from 600-1100 PSI in cool to hot temperatures. The 4000 we generally use for all 2000-3000 PSI PCP models.



 The WIDE-BORE GAUGE PORT has a much larger air passage than Discovery and Maximus ports do. It produces more power when used in those models. It also takes up less space in the tube allowing a little more room for air. The difference in inside diameter compared to the Discovery and Maximus gauge ports is shown in the last photo. It's made of brass with a black oxide coating for extra corrosion resistance. It includes the o-rings plus an extra set. This port has wider, deeper o-ring seats with thicker o-rings than those on the Discovery model. The outside diameter of the o-rings is the same so the port fits the same tube size. Military grade thread-sealing tape about 3.5 mils (.035") thick should be used to mount the gauge or extension.


 The HEAVY-DUTY GAUGE EXTENSION is made of high-strength stainless steel and is rated for operating pressures up to 6500 PSI. It is far stronger than it would ever need to be and highly corrosion resistant. AS MENTIONED ABOVE, THIS EXTENSION DOES NOT SEAL WITH AN O-RING AND WON'T FIT DISCOVERY, MAXIMUS  OR OTHER GAUGE PORTS THAT USE AN O-RING. Military grade thread-sealing tape about 3.5 mils (.035") thick should be used.