MAGNUM AIRGUN SUPPRESSOR for .177 to .25 caliber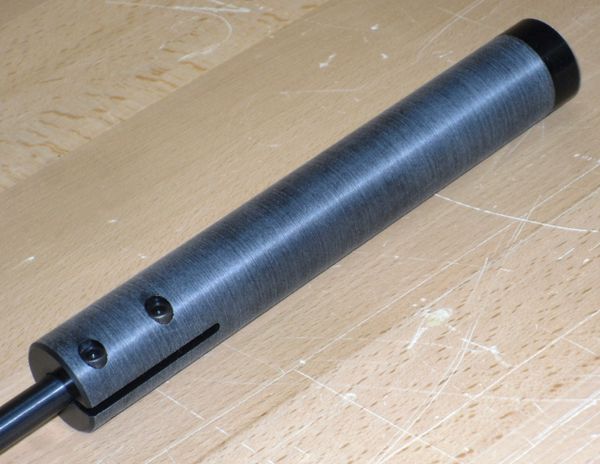 MAGNUM AIRGUN SUPPRESSOR for .177 to .25 caliber
 This suppressor is not caliber specific, it has a .300" ID crown and works with up to .25 caliber.
 This is the new Magnum Airgun Suppressor machined from solid black Delrin. It only fits 7/16" Crosman / Benjamin barrels. This unique clamp-on design is self-centering so no adjustment or shimming is required. It requires a minimum of 2.25" of barrel insertion to fit and function correctly and allows up to 4 additional inches of insertion if desired. The further you insert the barrel beyond 2.25" the less suppression you get but most models are nearly silent with 2.25" to 4" of insertion. To secure the suppressor you simply slide it onto the barrel and snug-down the socket cap screws. The internal chamber is much larger than other airgun suppressors on the market which reduces muzzle noise to a much larger degree. No baffles are needed, it works extremely well with a simple empty chamber. For 2240 and 2300 models a ten inch or longer barrel will fit. For 2250 and 2400KT models a 12" barrel or longer will fit. For 2260 variants 18" or longer barrels will fit. Discovery and Maximus models require shorter custom tubes that allow enough free barrel length to fit. The custom tank adapters and shorter tubes we have listed for those allow this suppressor to fit and power your gun from a tank for a much higher shot count. The suppressor is 1.25" OD, 8-3/8" long and weighs 5.3 oz. It mounts strong and stable, is extremely durable and difficult to damage and is the easiest airgun suppressor to install.
 To install you will need a 5/32 allen wrench or driver-bit to tighten the two alloy-steel socket cap screws. First, make sure the screws are loose enough to slide the silencer over the barrel at least 2.25" so the crown of the barrel is comfortably past the slot in the silencer body. Snug the screws down lightly until they stop without compressing the slot, then an additional 1/4 turn to lock the silencer in place. An additional 1/4 turn may be necessary, some barrels are slightly smaller diameter than others. Do not tighten the screws hard, it's not necessary and could warp the silencer body, the compression force created by snuggung the screws lightly will self-center the silencer and produce a rock-solid grip without marking or damaging the barrel. 
 This suppressor does not fit any firearm or silencer adapter we are aware of. It isn't intended or designed for use with firearms. It's illegal to modify it to fit a firearm, firearm silencer adapter or modify a firearm or firearm silencer adapter to mount this suppressor. Mounting it on a firearm would be dangerous and most likely result in the suppressor exploding with a high risk of physical injury. For more info on the legality of airgun silencers/suppressors read our AIRGUN SILENCER LEGALITY page at the following link.  https://www.magnumairpower.com/airgun-silencer-legality.html