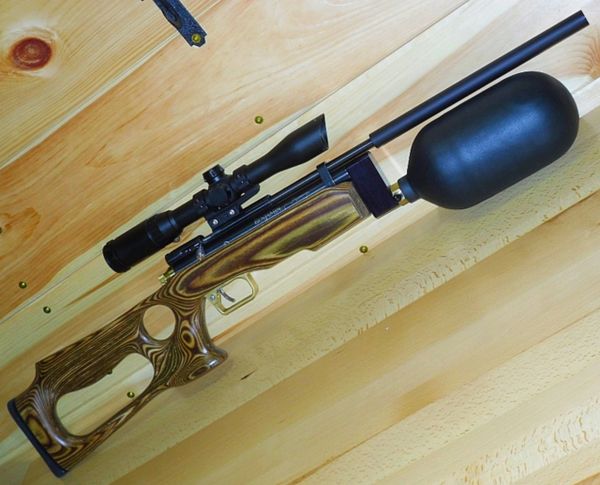 MAGNUM DESTROYER .22
THIS MODEL IS TEMPORARILY UNAVAILABLE. WE'RE SO BUSY SHIPPING PARTS WE DON'T HAVE TIME TO BUILD GUNS. WE PLAN TO HIRE MORE SHIPPING HELP SOON AND HOPE TO HAVE IT BACK IN STOCK LATER THIS YEAR. 

 This Discovery-based custom rifle is available with barrel lengths from 14-26 inches. The longer the barrel the more power it produces. This is the most powerful .22 air rifle commercially available. It also has the highest shot count being able to mount up to a 90 cubic inch tank. With a 68 cu in carbon-fiber HPA tank, the balance point is at the forend of the stock about 2" behind the tank block. It's very well-balanced and extremely stable. It's on the heavy side but very comfortable to shoot. Depending on tank size and barrel length it weighs anywhere from 8-13 lbs with a full-sized scope mounted.
 The barrel has a deburred and polished leade, transfer port and custom crown for smooth loading and improved accuracy. The barrel port and transfer sleeve match the .150" valve port diameter. The custom trigger group is available with a black-anodized aluminum or brass casing and stainless steel trigger. Trigger pull is about 2 lbs. It has a wide-bore gauge port, stainless-steel gauge extension, 4000 PSI gauge, compact Magnum Rifle Adjuster with locking collar, self-centering silencer shroud and it's assembled with high-strength alloy screws for perfect stability. The custom 10" Discovery tube is modified to fit the tank block, custom Magnum Hammer and it's completely reworked for ultra-smooth function.
 For maximum power and shot count a starting pressure of 3200-3300 PSI is needed. The gun in the photos has a 14" barrel and unregulated 68 cu in tank. With extra-heavy 33.956 grain pellets and a starting pressure of 3300 PSI, it started shooting at 807 FPS, peaked at 820 FPS at shot 12, then slowly dropped to 802 FPS at shot 52. It continued to drop consistently to 787 FPS at shot 70. With a 26" .22 barrel it produces numbers comparable to those posted below.

PSI        PELLET     FPS      FPE
3200   10.03 g    1288    36.9
3200   14.3 g      1142     41.4
3200   18.21 g    1086     47.7
3200   25.39 g    1000    56.3
3200   33.95 g     905     61.7