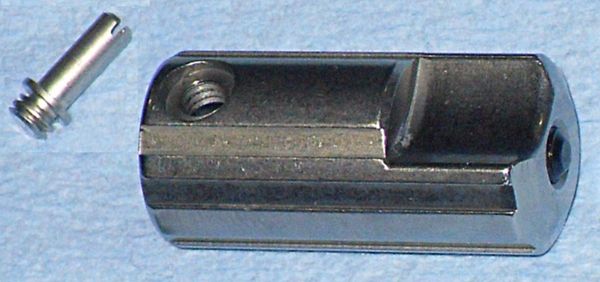 MAGNUM HAMMER for 13XX
THESE HAMMERS INCREASE POWER AND ELIMINATE ROUGH COCKING WHICH IS USUALLY CAUSED BY A LOOSE COCKING PIN.
 MEDIUM STRENGTH THREADLOCKER IS RECOMMENDED TO KEEP THE THREADED PINS FROM LOOSENING


THE THREADED STRIKER PIN CAN  BE ADJUSTED TO EXTEND UP TO 3/32" FROM THE FACE OF THE HAMMER. MORE THAN THAT WILL CAUSE THE PIN TO HIT THE VALVE AND PUSH THE VALVE STEM IN TOO FAR CAUSING DAMAGE. ELONGATING THE PIN SLOT IS NOT RECOMMENDED WITH THIS HAMMER FOR THE SAME REASON

This custom 13XX hammer has a thread-in cocking pin and adjustable threaded striker pin. It weighs about 1.3 oz compared to a standard 13XX hammer at 1.4 oz. It moves a little quicker which increases FPS. Adjusting the striker pin forward produces additional power. It fits 1377, 1322, PC77, 2289G Backpacker and Crosman Custom Shop 1300KT models. It's only available with a thread-in cocking pin that has a .195" OD shoulder so it doesn't require any modifications to install. It does not work with older models that have a pull-knob cocking mechanism and sliding breech cover. THIS HAMMER IS NOTCHED TO ALLOW USE OF DISCOVERY, MAXIMUS AND 2300/2400KT BREECHES. IF USING ONE OF THOSE BREECHES YOU NEED TO DRILL AND TAP A 4-48 THREADED HOLE IN THE CORRECT LOCATION. THAT LOCATION IS EXACTLY 7/16" CENTER TO CENTER BEHIND THE ORIGINAL SCREW HOLE.


 The striker pin can be adjusted back into the hammer or forward to extend the reach of the hammer. Back further reduces hammer bounce and may improve consistency at low power levels. Further forward will produce more power with less hammer force, this keeps the gun easier to cock at higher power levels. It should not be adjusted forward so that it hits the valve body before the cocking pin hits the end of the slot in the tube. The valve could be damaged if the striker pin hits it. Generally 1/16" to 3/32" is the furthest forward from the face of the hammer you can adjust the striker pin.