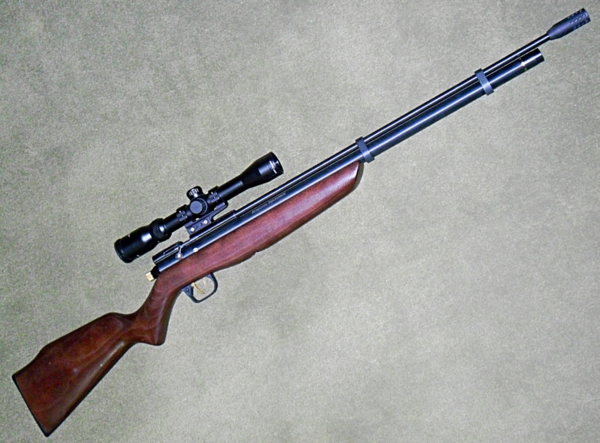 CUSTOM MAXIMUS .177
This model is undergoing some changes. The new version will be in stock soon with new photos.

This .177 Maximus is loaded with custom parts and tuned for top performance. It's 43" long and weighs 5 lbs. 8 oz. without a scope or sights. The 26" barrel has a deburred and polished crown, transfer port and leade for easier loading and improved accuracy. The custom brass trigger kit eliminates unnecessary travel and lightens pull to about 2 lbs. The valve is upgraded with custom mounting screws and a Marauder stem to handle higher pressure. The custom valve spring increases power and consistency. It has a wide-bore gauge port, stainless-steel extension, 3500 PSI gauge, stainless steel bolt, nickel-plated hardened steel handle, Compact Magnum Adjuster with locking collar, Magnum Hammer Spring, ported muzzle-brake and the entire gun is assembled with upgrade screws for added strength and stability. The fill adapter has rounded edges on the hex-lug so the cap snaps on and off smoothly without the o-ring being damaged.
For the test below, I set the adjuster 7 turns back from full spring compression with the bolt cocked. The starting pressure was 2250 PSI. It produced a very well-balanced, consistent 20 shot string with a variance of only 13.9 FPS and 1800 PSI left.
FPS PELLET WEIGHT
1) 947.6 10.5 grains

2) 952.9
3) 954.7
4) 956.5
5) 959.0
6) 955.8
7) 957.5
8) 952.7
9) 950.4
10) 954.2
11) 961.3
12) 958.2
13) 961.5
14) 958.8
15) 956.9
16) 954.0
17) 952.8
18) 954.8
19) 950.3
20) 947.9