MAGNUM VALVES for Discovery & 22XX PCP/BULK-FILL CONVERSIONS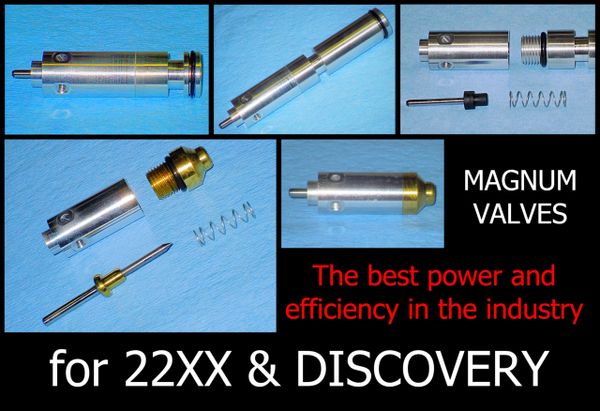 MAGNUM VALVES for Discovery & 22XX PCP/BULK-FILL CONVERSIONS
SELECT THE VALVE YOU WANT FROM THE DROP-DOWN MENU FOR CORRECT PRICE AND AVAILABILITY
THE MAGNUM VALVE BODY IS MACHINED FROM 7075 ALUMINUM, IT'S NOT A MODIFIED DISCOVERY VALVE
NOT COMPATIBLE WITH MAXIMUS MODELS. IT IS WIDELY BELIEVED MAXIMUS AND DISCOVERY HAVE IDENTICAL TUBES AND VALVES, THIS IS NOT TRUE. THE VALVES ARE RADICALLY DIFFERENT WITH MOUNTING SCREWS IN COMPLETELY DIFFERENT LOCATIONS. THE MAXIMUS VALVE IS NEARLY IDENTICAL TO THE MARAUDER PISTOL VALVE BUT WITH ONLY TWO MOUNTING SCREWS.
 There are quite a few versions of the Magnum Valve listed in the drop-down menu above. Each is for a specific application as explained in the sections below. The body itself (exhaust-port half in second photo) is a first of it's kind design that blends the Discovery and Marauder valves together with a large angled port. It's made of 7075 aluminum which is one of the strongest aluminum alloys. The angled port is .150" diameter. All of these valves include an ultra-light stainless steel internal spring. This is the lightest, most versatile and most powerful valve on the market for models it fits. It's designed to produce longer shot strings and more power. It produces high power levels with excellent efficiency but also works extremely well at low power. This is a direct-fit part, no modifications are necessary for it to fit your gun. Your original transfer sleeve (port) and gasket can be used or one of our custom sleeves. All of these Magnum Valves fit our custom valve screws for Discovery, PCP pistols and 22XX. Some Discovery chrony test results are posted at the bottom of this page.


 The MAGNUM VALVE replaces the factory Discovery valve and fits with the original pressure-gauge assembly. The MAGNUM BYPASS VALVE eliminates the pressure-gauge assembly on Discovery models by extending past the pressure-gauge hole in the tube. Both are listed in low-pressure and high-pressure versions. The low-pressure versions have a softer seal, they are best for bulk-fill CO2, HPA and PCP up to around 2200 PSI. The high-pressure versions have a much harder seal that's necessary for pressures above 2200 PSI but tends to leak at low pressure. The valve stems for all four versions have a smaller head and pin diameter than the Discovery valve-stem so they open with much less hammer force, this produces far more power with less hammer-spring tension and makes the gun a lot easier to cock at high power levels.


 The following chrony results were produced with an upgraded Discovery .22 with a 26" Maximus barrel, wide-bore gauge port, 3500 PSI gauge, Magnum Hammer Spring, Magnum Adjuster set 2 turns back from full spring compression, Magnum Valve with a short cap and custom valve screws for higher pressure. The transfer sleeve and barrel port were both deburred and polished which enlarged each by about .003" to .047".


PSI     PELLET   FPS     FPE
3200   10.03 g    1288    36.9
3200   14.3 g      1142     41.4
3200   18.21 g    1086     47.7
3200   25.39 g    1000    56.3
3200   33.95 g     905     61.7
  The following chrony results were produced with the same gun as above. The adjuster was set  3.5 turns back from full spring compression. The starting pressure was 3200 PSI. JSB Jumbo Monster 25.39 and Jumbo Beast 33.95 produced the best consistency and groupings of about a dozen types and weights tested. Heavy pellets work best at these extreme power levels producing same-hole accuracy at much longer distances than lower-powered gun with lighter pellets.
1)    817  FPS    33.95 g    50  FPE
2)    833
3)    837
4)    843
5)    845
6)    850
7)    853                             54  FPE
8)    849
9)    838
10)  824
11)  816                            50   FPE