MAGNUM VALVE for DISCOVERY & 22XX CONVERSIONS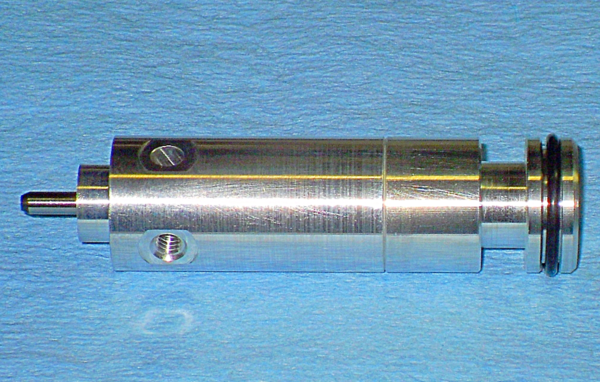 MAGNUM VALVE for DISCOVERY & 22XX CONVERSIONS
This valve is custom machined from 7075 aluminum, it is not a modified Discovery valve.
It doesn't fit Maximus models. For Maximus I suggest using the Marauder stem, ultra-light valve spring and upgrade valve screws I have listed. Those parts produce excellent performance and allow up to 2400 PSI. A Magnum Hammer Spring and Magnum Adjuster are also needed to balance the power curve at higher pressure. If you only use CO2 then the original Maximus valve stem seals better at low pressure. It's the same stem used for 13XX models.

This is the
MAGNUM VALVE for Discovery. It also fits 22XX for bulk-fill, PCP and HPA conversions. It's a radical new design that blends the Discovery and Marauder valves together with a large angled port.
It's made of 7075 aluminum which is one of the strongest aluminum alloys. The port is .151" diameter and angled 26°. It has a Marauder valve-stem which has a much smaller head and pin diameter. It opens with much less hammer force which reduces ping and vibration at high power levels. It perfectly fits my custom valve screws for Discovery and the smaller ones for 22XX. It has an ultra-light spring. This is the lightest, most versatile and most powerful valve on the market for small-bore models. It's designed to produce longer shot strings at the highest power levels but works very well at lower power also. This is a direct-fit part, no modifications are necessary for it to fit your gun, your original transfer port and gasket can be used. Some chrony numbers are listed at the bottom of the page with a description of other part upgrades. A fully upgraded Discovery with this valve will produce more than twice it's original power, 50-60 FPE is easily achieved. The highest energy produced in the first round of chrony testing was 61.7 FPE. That was in .22 caliber with 33.956 grain pellets at 900-905 FPS for a five-shot string at full power. The last factory-issue Discovery .22 I tested was able to produce around 27 FPE with the right ammo.
With CO2 it produces more power than any other valve design. The amount of power produced depends on barrel length, ammo weight and temperature of the shooting environment. It fits the standard CO2 cap but not the standard stem. It won't work with 12 gram cartridges because there is no compatible stem that has a piercing pin on it. It's intended for PCP, HPA, bulk-fill CO2 conversions, HiPAC, dummy CO2 and cartridge eliminators.

It's listed in six versions. The first two are just the valve body with a 13XX or Marauder stem and ultra-light spring. Both can be used with your original valve cap for HiPAC, cartridge eliminator and dummy CO2 setups. The 13XX stem works better for CO2 and pressures under 2000 PSI. The Marauder stem works better for higher pressures. The third and fourth are complete valves with a short cap, they fit Discovery and 22XX converted to bulk-fill or PCP. The fifth and sixth are complete valves with a bypass cap for Discovery, this eliminates the tube-mounted pressure gauge. Refer to the short and bypass cap listings for more info.
The following chrony results were produced with an upgraded Discovery .22. It had a 26" Maximus barrel, wide-bore gauge port, 3500 PSI gauge, Magnum Hammer Spring, Magnum Adjuster set 2 turns back from full spring compression, Magnum Valve with a short cap and custom valve screws for higher pressure. The transfer sleeve and barrel port were both deburred and polished which enlarged each by about .003".

PSI PELLET FPS FPE
3200 10.03 g 1288 36.9
3200 14.3 g 1142 41.4
3200 18.21 g 1086 47.7
3200 25.39 g 1000 56.3
3200 33.95 g 905 61.7
The following chrony results were produced with the same gun as above but with the Custom Bypass Cap instead of the wide-bore gauge port. The adjuster was set 3.5 turns back from full spring compression. The starting pressure was 3200 PSI. JSB Jumbo Monster 25.39 and Jumbo Beast 33.95 produced the best consistency and groupings of about a dozen types and weights tested. Heavy pellets work best at these extreme power levels.
1) 817 FPS 33.95 g 50 FPE
2) 833
3) 837
4) 843
5) 845
6) 850
7) 853 54 FPE
8) 849
9) 838
10) 824
11) 816 50 FPE