Magnum Valve for Discovery & 22XX PCP Conversions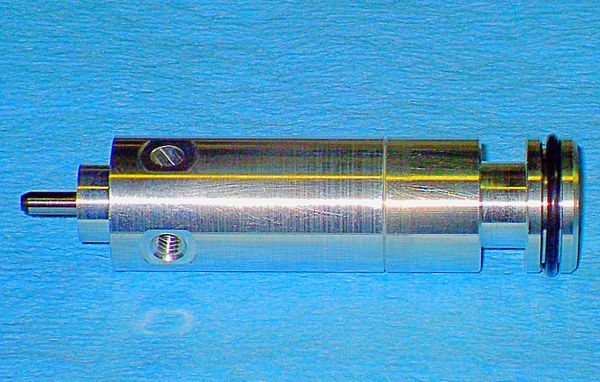 Magnum Valve for Discovery & 22XX PCP Conversions
THE MAGNUM VALVE BODY IS MACHINED FROM 7075 ALUMINUM, IT'S NOT A MODIFIED DISCOVERY VALVE
NOT COMPATIBLE WITH MAXIMUS MODELS. IT IS WIDELY BELIEVED MAXIMUS AND DISCOVERY HAVE IDENTICAL TUBES AND VALVES, THIS IS NOT TRUE. THE VALVES ARE RADICALLY DIFFERENT WITH MOUNTING SCREWS IN COMPLETELY DIFFERENT LOCATIONS. THE MAXIMUS VALVE IS NEARLY IDENTICAL TO THE MARAUDER PISTOL VALVE BUT WITH ONLY TWO MOUNTING SCREWS.
 The valve-body (exhaust-port half in second photo) is a first of it's kind design that blends the Discovery and Marauder Pistol valves together with a large angled port. It's made of 7075 aluminum which is one of the strongest aluminum alloys. The angled port is .150" ID which is the optimal size for .177 - .25 caliber with ammo in the 10-35 grain weight range. It has an ultra-light stainless steel internal spring. This is the lightest, most versatile and most powerful valve on the market for small-bore Discovery and 22XX PCP conversions. It produces more power with less air usage and opens easier under high pressure due to the small valve-stem diameter, so it's capable of more than doubling the power of a Discovery rifle at around 55 FPE compared to the factory valve at around 24 FPE. With a 26" Maximus barrel 62-63 FPE is typical. It's extremely efficient so it works well at low power levels also, increasing shot count and reducing the hammer-spring tension required for easier cocking and less noise and vibration during the firing cycle. This is a direct-fit part, no modifications are necessary for it to fit your gun. Your original transfer sleeve (port) and gasket can be used or one of our custom sleeves.
 The following chrony-test results were produced with an upgraded Discovery .22 with a 26" Maximus barrel and our wide-bore gauge port, 4000 PSI gauge, .045" WD Hammer Spring, Magnum Rifle Power Adjuster set 2 turns back from full spring compression with the hammer cocked, Magnum Valve, Custom Discovery Valve Screws and Custom .150" ID Transfer Sleeve. All tests were done starting at 3200-3300 PSI which is only safe due to the upgraded valve screws.
PSI     PELLET   FPS     FPE
3250   10.03 g    1288    36.9

3250   14.3 g      1142     41.4

3250   18.21 g    1086     47.7

3250   25.39 g    1000    56.3

3250   33.95 g     905     61.7



  The following chrony-test results were produced with the same gun as above. The adjuster was set  3.5 turns back from full spring compression with a starting pressure of 3250 PSI. JSB Beast 33.95 grain pellets were used, they produced excellent accuracy, consistency and the highest FPE of ammo weights tested in the 25-40 grain range. Heavy pellets work best at these power levels producing same-hole accuracy at much longer distances than lower-powered guns with lighter pellets. The lighter JSB Monster 25.39 grain pellets produced a similar shot-string but each shot was about 100 FPS faster.
1)    817  FPS    33.95 g    50  FPE
2)    833
3)    837
4)    843
5)    845
6)    850
7)    853                             54  FPE
8)    849
9)    838
10)  824
11)  816                            50   FPE