OILS, APPLICATORS & BOTTLES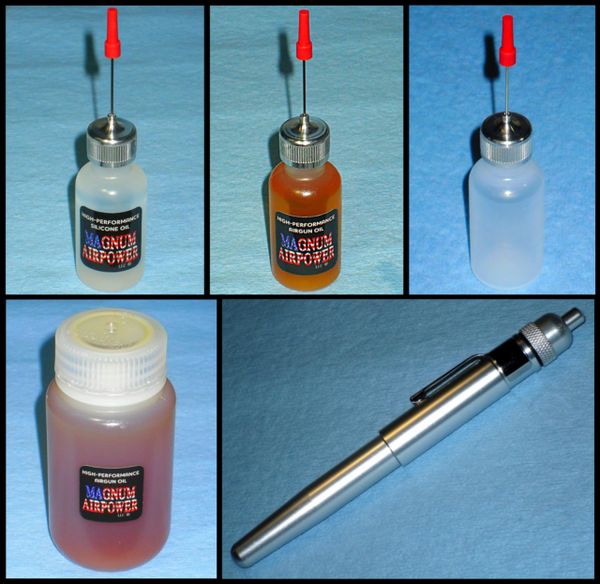 OILS, APPLICATORS & BOTTLES
 For detailed information about lubricants and how to oil your airgun refer to the
LUBRICATION
page in the
TECHNICAL INFO
section of the main website.
 HIGH-PERFORMANCE AIRGUN OIL
 is non-toxic and provides the highest level of wear and corrosion protection in the industry. 
It's listed in 1/2 oz applicator and 4 oz wide-mouth bottles.
 It works exceptionally well in all temperature ranges staying fluid at -40° F and maintaining the optimal SAE 30 viscosity at the highest possible environmental temps. It has an operating range of -40° F to 500° F with a flash point of 450° F. This oil is recommended for all variable-pump and CO2 models. It also works exceptionally well for break barrel models that require petroleum-based oil. It should not be used in the compression chambers of PCP, HPA, dual-fuel or break barrel models that require silicone oil. For assembly and maintenance of such components use our 
HIGH-PERFORMANCE SILICONE OIL described below.
HIGH-PERFORMANCE SILICONE OIL 
 is non-toxic and highly resistant to rapid compression autoignition or "dieseling" as it's commonly known. With a flash-point above 586° F and autoignition temp above 900° F it's the safest on the market. It's an excellent compression chamber oil for break barrel models (spring piston, gas piston, Nitro Piston and gas ram) that require silicone oil. It's perfect for assembling high-pressure PCP components and can be periodically added through the fill nipple of PCP guns to reduce corrosion and wear. It's perfect for PCP hand pumps that require silicone oil.
Crosman Silicone Chamber Oil (RMCOIL) is recommended by Crosman for their PCP guns. Our oil is a safer high-performance version.
Both are dimethyl, phenylmethyl siloxane, trimethyl-terminated. Our's has a higher phenyl content which gives it a much higher flash point, better thermal stability and it's more hydrophobic to better prevent corrosion. This oil is only available from industrial suppliers for $400 per gallon and up. We list these 1/2 oz bottles at a very small markup to make it affordable for most. It has a viscosity equal to SAE 30, resists thickening in cold temps and thinning in hot.
 The empty 
PRECISION APPLICATOR BOTTLE
can easily be filled with oil to apply exactly where you want it. The tube is stainless steel and the cap is aluminum with a rubber gasket to assure a leak-proof seal. It holds 1/2 oz or 30 ml.
 The 
PRECISION APPLICATOR PEN
 has a machined aluminum housing with stainless steel and brass components. It's sealed with nitrile o-rings. It's excellent quality, reliable and durable. It can be filled with any oil that will flow freely. 
 COMMON USES: To accurately apply oil in precise amounts to small or hard to reach parts and spaces. Perfect for airguns, firearms, fishing reels, tools, and machinery.
SPECIFICATIONS: 6" Long and holds up to .5 oz or 15 ml. Fill cap and protective cap screw-on securely to avoid leakage.

HOW IT WORKS: A tapered brass plug in the tip of the needle opens when you push the plunger on the fill cap. The oil will begin to flow slowly and form a droplet if you don't start spreading it first. Releasing the plunger immediately stops oil flow. The oil reservoir and needle applicator seal air-tight, you may have to unscrew the filler cap periodically to let air in if a vacuum forms and stops the flow of oil.
 The 
WIDE-MOUTH BOTTLE
is heavy-duty and leak-proof. It holds 4 oz and is 4" tall by 2" diameter. It makes a great leak-proof container for bore cleaner, bluing solution and other chemicals.