POLYMER-CORE MAGNUM HAMMER for 22XX, Discovery, Maximus & Fortitude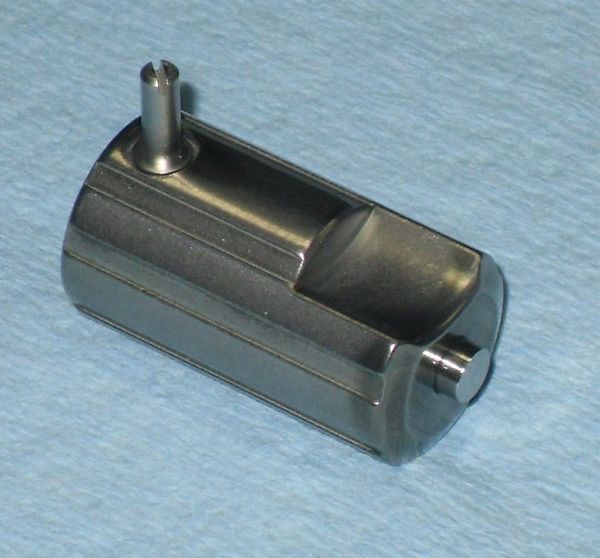 POLYMER-CORE MAGNUM HAMMER for 22XX, Discovery, Maximus & Fortitude
IN ADDITION TO PRODUCING MORE POWER, THIS HAMMER ELIMINATES ROUGH COCKING AND BINDING, THE CAUSE OF WHICH IS GENERALLY A LOOSE-FITTING COCKING PIN


SELECT THE PIN-SHOULDER DIAMETER OF .195" OR .240" FROM THE DROP-DOWN MENU. DETAILED INFO ON THESE OPTIONS IS EXPLAINED BELOW


 MEDIUM STRENGTH THREADLOCKER IS NECESSARY TO KEEP THE THREADED COCKING-PIN FROM LOOSENING. IF THE PIN COMES LOOSE IT CAN BIND AGAINST THE TUBE OR BREAK-OFF. WE USE AND RECOMMEND LOCTITE 243. THE THREADS OF BOTH PARTS SHOULD BE CLEAN AND DRY BEFORE ASSEMBLY BUT LOCTITE 243 TENDS TO WORK WELL EVEN WHEN THE THREADS HAVE SLIGHT TRACES OF OIL OR GREASE.


 This is the new MAGNUM POLYMER-CORE HAMMER that is designed to replace our older adjustable and dead-blow versions. It's non-adjustable striker pin opens the valve further than a factory valve maximizing power but also limits it's reach so it can't hit the valve-body preventing damage to the valve. The striker-pin seats against a polymer core that reduces vibration and noise created by the hammer hitting the valve-stem often referred to as "ping" in the airgun community. Ping is only an issue for PCP guns at very high pressures, for CO2 there's no significant ping to begin with. It weighs 57 grams which is slightly less than a standard factory hammer at 59 grams. It fits all 2240, 2250, 2260, 2300T, 2300S, 2300KT, 2400KT, Discovery, Maximus, and Fortitude models. The .195" pin-shoulder is a direct fit and the best option for those not wanting to modify their tube-slot to fit the larger .240" pin-shoulder.
The .240" pin-shoulder is slightly more durable but will not fit through the hole in the tube, it requires the pin-slot to be extended as shown in the last photo so it can be inserted or removed with the pin installed.