CUSTOM TRIGGER GROUPS & PARTS for Discovery, Maximus, Fortitude & 2260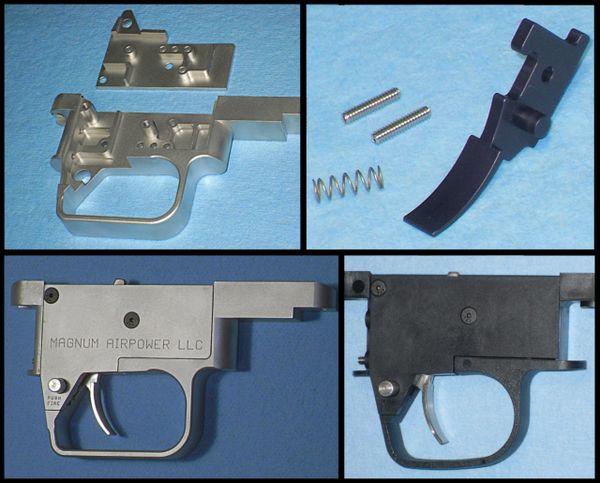 CUSTOM TRIGGER GROUPS & PARTS for Discovery, Maximus, Fortitude & 2260
 These trigger groups and custom casings are a direct fit for all Discovery and 2260 models. The slot in the plastic stocks for Maximus and Fortitude models needs to be cut or filed 3/8" longer towards the front to fit custom groups and casings. If you use a wood Discovery stock with Maximus or Fortitude no modification is needed.

 CUSTOM ALUMINUM AND BRASS CASINGS
include two alloy steel socket screws for the cover, two stainless steel set screws for the trigger travel adjustments and three hardened pins for the trigger, transfer link and sear. The current brass casings are machined from 360 brass and left with the original semi-shiny machined finish to match our brass power adjusters, bolts and handles. The aluminum versions are bead-blasted for a matte finish.
 COMPLETE TRIGGER GROUPS 
are adjusted and ready to install. They all have upgrade trigger kits and polished contact points for a smooth easy trigger pull. The versions with aluminum and brass casings include one of our custom heat-treated stainless steel sears. Those sears do not fit the plastic casings. All of the groups with black or brass triggers have a black steel safety. The groups with stainless triggers have aluminum safeties.
Trigger pull varies from around 8 oz to 2 lbs depending on how it's adjusted, how much hammer spring tension you have and how smooth your striker assembly works. The first custom build we did with a custom trigger group (aluminum casing) had a pull of only 8 oz with one of our .045 Magnum Hammer Springs set at full power. That's a half-pound pull at 62 FPE! With a little more tuning that is down to 5 oz now.
The complete groups are shipped ready to mount and use. Adjustments and modifications can cause the gun to fire easily and unexpectedly and should be done by experienced individuals. The gun may not be safe for some to handle in that condition without supervision. A .050" hex wrench or bit (not included) is needed to adjust the travel screws. The top screw adjusts how high the sear rises, this should be adjusted so the safety engages smoothly leaving no significant forward travel for the trigger. The bottom screw adjusts how far down the sear will move, it can be adjusted to limit trigger pull to only what is need for the gun to fire. If adjusted too far forward it will prevent the gun from firing. If you have any questions feel free to contact us.

 The 
TRIGGER KIT
 is available in black anodized 6061-T6 aluminum, 360 brass and 304 stainless steel. It fits standard plastic and our custom aluminum and brass casings. It includes a light return spring and two set-screws to adjust travel in both directions. The set screws are needed for the trigger to function, it will not work without them. This design can be adjusted to a very short travel (hair-trigger) for lightning-fast response and greatly improved accuracy. The wide, thin trigger is extremely comfortable and creates a lot more room inside the trigger guard for adult-sized fingers. All versions are extremely durable and will easily last the life of your gun. It fits all Discovery, Maximus, 1760 and 2260 models.
 The set screws fit the holes in plastic trigger casings perfectly, they form their own threads as you install them. A .050" hex wrench or bit (not included) is required to install/adjust the screws. If adjusted to a very short trigger pull the gun could fire unexpectedly. Make sure you leave a safe hammer/sear engagement and handle the gun accordingly.