HIGH-STRENGTH STAINLESS STEEL SEAR for Crosman 13XX, 22XX and Our Custom Rifle Trigger Casings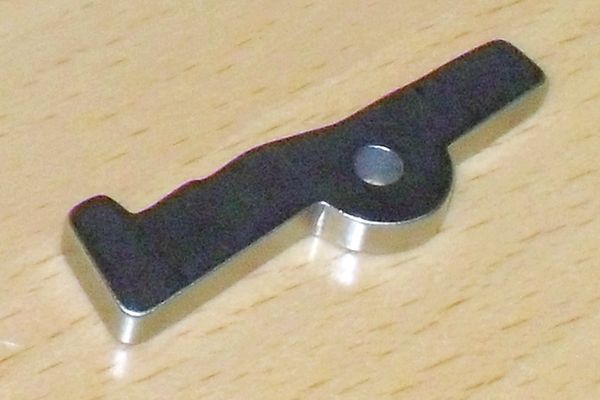 HIGH-STRENGTH STAINLESS STEEL SEAR for Crosman 13XX, 22XX and Our Custom Rifle Trigger Casings
 THIS IS A NEW VERSION RELEASED ON 6/29/18. IT'S HEAT-TREATED FOR EXCEPTIONAL STRENGTH AND DURABILITY. IT'S MORE ROUNDED AND POLISHED 

FOR THE SMOOTHEST POSSIBLE FUNCTION.
 This is the Magnum Sear 

made of heat-treated 410 stainless steel, one of the strongest and hardest stainless alloys. It's extremely durable, will wear and function better than a standard sear. The craftsmanship, fit and performance are unmatched. It's wider than standard to eliminate unnecessary wobble. Just like our custom triggers, no shims or spring washers are needed, it leaves only enough clearance to work smoothly and allow the hammer to seat correctly. It produces a lighter, smoother trigger pull and a cleaner release of the hammer. It fits pistol trigger groups and the custom aluminum rifle trigger cases we have listed. It does not fit the standard plastic rifle trigger groups for Discovery, Maximus, 2260 or Fortitude.
 THIS IS THE RECOMMENDED SEAR FOR USE WITH OUR MAGNUM HAMMERS, THOSE HAVE THREAD-IN COCKING PINS THAT ELIMINATE THE ROUGH-COCKING PROBLEM THAT PLAGUES MANY CROSMAN & BENJAMIN MODELS.

 Fits 

current and older Crosman models 1377C, 1322C, PC77, P1377, P1322, 2289G Backpacker, 2240, 2250, 2300T, 2300S, 2300KT, 2400KT, 1300KT, SSP250 and may fit other models that use the same type of trigger frame.