TANK ADAPTER - SELECT BLACK or ALUMINUM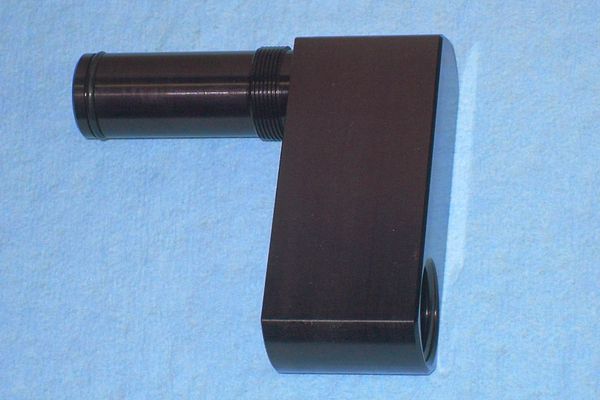 TANK ADAPTER - SELECT BLACK or ALUMINUM
THESE ADAPTERS DO NOT FIT COTHRAN TUBES. HE MAKES HIS TUBE-THREADS TO TIGHTER TOLERANCES THAN CROSMAN/BENJAMIN DOES. WE MAKE OUR ADAPTER THREADS OVERSIZED TO FIT CROSMAN/BENJAMIN TUBES TIGHTER. HIS TUBES ARE TOO TIGHT FOR OUR ADAPTERS.

This is the large version of our Magnum Tank Adapter, it mounts 

tanks up to 4.5" OD. This is the strongest, safest tank block design in the industry. It threads directly into 7/8" OD Crosman/Benjamin tubes including 2240, 2250, 2260, 2300 series, 2400KT, Discovery, Challenger, Maximus, Fortitude,1701P, 1720T and Marauder Pistol. A 1" diameter shroud or muzzle brake has about 1/8" clearance with a 4.5" OD tank. It 

has an anchor-screw on the left side to lock it in a fixed position. You can use medium-strength threadlocker on the threads if you don't want to drill a hole in your tube, this is to prevent wear of the threads and stop the block from twisting out of alignment.
 MARKING THE HOLE LOCATION:

 If you intend to mount the tank adapter to a standard tube you need to drill the anchor-screw hole. Thread the adapter all the way in. Back it out until it points straight down. Mark the center of the hole 1" from the back of the block. Deburring the inner edge of the hole after drilling helps avoid damage to the o-ring during installation. You may have to push the o-ring under the edge of the hole with a small slotted screwdriver to help it go past without being cut. The screw is T10 drive with a head-diameter of .271". The hole should be .275" - .281" (9/32") so the screw tightens against the block, fully-recessed through the tube, as valve screws do.
 PRESSURE LIMITS: The pressure limit depends on how many valve screws you have and how strong they are. With three of the custom valve screws we have listed, 3200-3300 PSI is the maximum safe operating pressure. Maximus models with two custom screws can use up to 2400 PSI. For 22XX CO2 models you need one of our Magnum Valves for Low Pressure and custom 22XX valve screw or convert your factory valve for bulk-fill/HPA. For that conversion our custom short valve-cap, Discovery valve stem and custom valve-screw for 22XX are needed, that valve-screw requires drilling and taping the hole in your valve to fit as described in that listing. That single-screw is safe with CO2 or an HPA tank regulated to 1400 PSI or less with a 1.8K burst-disc on the regulator.